Advanced Studies Enrichment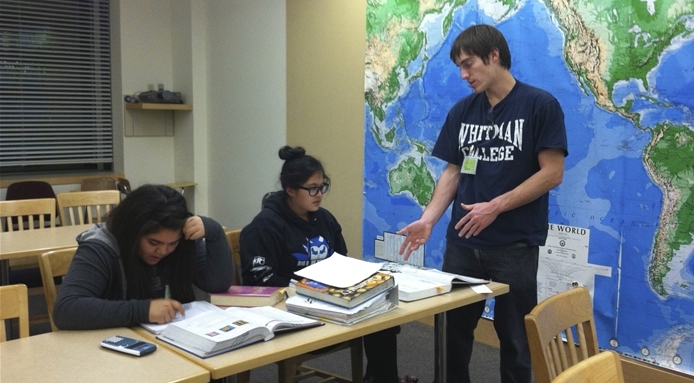 Advanced Studies Enrichment (ASE) is a program that was conceived from a discussion in 2013 with the principal and teachers of Walla Walla High School (Wa-Hi), who recognized that advanced placement (AP) students could use some extra support. With a generous grant from Pacific Power, Whitman developed a weekly tutoring program to support the AP science and math students at Wa-Hi.

Each Monday and Wednesday evening, Whitman tutors gather in the Hall of Science armed with snacks, textbooks and knowledge to share. With an average of six Wa-Hi students attending each week, tutors help students find their way through metabolic pathways, structural formulas, mutations, lipid bilayers, dimensional analysis, cell biology, differential equations and genetics.
ASE offers Wa-Hi students a great study environment, help understanding new and challenging concepts, and a peek at the college environment. Our Whitman students get the opportunity to try out their teaching skills, help others, solve problems, and engage with the community.