Interviewing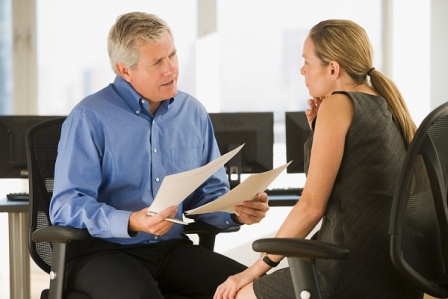 Interviewing 101
Check out this great online presentation about different interview strategies: Interview Strategies 101
Here is a hard copy of the Powerpoint from the above presentation if you'd like to save it: Interview_Strategies.ppt
What is the purpose of an interview?
For the employer, an interview is an opportunity to evaluate your ability to express ideas, learn more about your skills and experiences, and to determine if you would be a good match for the organization's needs.
For you, an interview allows you to expand on information in your resume or application, demonstrate strong communication and interpersonal skills, gather information, and determine if the organization would be a good match for your needs.
How should you prepare?
Know yourself – Answer some self-reflection questions:
Why am I qualified to do this job? Be specific.
What are my strengths? What are my weaknesses? What am I doing to resolve those weaknesses?
What are my short-term and long-term goals?
What experiences have I had that will enhance my chances of success in this position?
What is my interpersonal style?
What kind of relationship would I like to have with my supervisor?
Know the employer – Do your research!
Review company website, profile, history, and reports.
Talk to current employees, if possible.
Search news archives for company/organization news.
Talk to others in the industry.
Answering the questions
When answering interview questions, don't just tell, DEMONSTRATE! Give specific examples and connect these examples to the specific needs of the organization. Make sure you are listening to the content of the question and focus your response.
Behavioral interview questions, which ask you to recall your actions in a particular situation, can be answered using the PAR model:
Define the Problem or activity
Describe your Action
Describe your Result
Before your interview, prepare brief but informative responses to questions you think you may be asked. Review the job description for potential questions. View some Sample Interview Questions.
Remember to keep your responses focused on your professional skills and experiences and avoid including personal information. If your interviewer asks, "Tell me about yourself," don't tell him or her about where you were born or how many siblings you have. Instead, tell him or her how you developed a professional interest in the industry. Describe what led you to apply for that position at that company.
Asking thoughtful questions
The questions you ask of your interviewers can be as telling about you as your responses to their questions. Prepare some questions ahead of time, but also feel free to ask follow-up questions to comments your interviewers make during the interview. Be careful not to ask questions that can be easily answered by looking at the organization's website.
Here are some topics that make good questions:
Challenges faced by department/company
Interviewer's history with the organization
News item involving the organization
New initiatives the company is taking on
Procedures, structures, operations of the organization
At your first interview, it is not a good idea to ask about salary or benefits. It is a good idea to ask about the timeline of the hiring process.
What to wear
Deciding what to wear to an interview can be stressful. As a rule, consider the everyday dress code of the organization, then dress up one level. For example, if the dress code is business casual (slacks/skirts and button shirts or blouses), then go for business formal (a suit). Even though your "going out" clothes look good, they are not appropriate for an interview, or work in general.
Make sure your clothes are clean and wrinkle-free. Your hair should be neat, clean, and away from your face. Avoid wearing strong fragrances, as they may irritate your interviewer.
Tips and things to avoid
Body Language - Your body language can make an impression on your interviewer. To avoid a negative impression, remember to sit up and not to fidget. Shake hands, make eye contact and smile!
Timing – Arrive 10 minutes early for your interview, unless otherwise instructed. If you arrive too early, you become a burden. If you arrive too close to your scheduled interview time, you may have to rush to complete any paperwork and run the risk of pushing back the entire interview schedule.
Behavior – Always be respectful to everyone you meet. The interviewer may ask the receptionist or administrative assistant to observe your behavior before or after the interview. Do not text, call or check email before your interview! If you need to do something while waiting, review any materials relevant to the position, such as the job description or your resume.
Choose your words carefully – Don't bash a previous employer in your interview; it could come back to bite you! Employers are looking for positive employees, so any negativity or complaining will be looked upon poorly. If you feel that it is appropriate to talk about a negative situation, always frame it constructively and talk about what you may have learned from the situation.
Follow-up - Always write a thank you note.
Emails are appropriate for phone interviews
Hand-written notes are appropriate for on-site interviews
Also, remember to:
Know the name and title of your interviewer.
Ask for business cards so you know how to address thank you notes.
Offer a firm handshake at the beginning and end of the interview.
Tell the truth! Don't exaggerate or embellish.
Call and ask for an update if you don't hear from the employer when the indicated notification timeline has passed.
Phone/Skype Interviews
The use of phone and Skype interviews is increasingly common. Why? Quite simply, it is inexpensive, and it's an easy way for employers to screen candidates efficiently. It takes more time, logistics and money - especially for out-of-towners - to interview candidates in person. The Student Engagement Center can help you prepare for your interview. Here are some tips to succeed in your next phone interview:
1. Consider it to be a professional interview, as if you were sitting across from your interviewer.
You may not need to put on a suit, but you will feel more professional and competent if you dress well. Prepare well, review your job search materials and the job description, and know all you can about the employer. Sit upright with both feet on the floor.
2. Choose a site where you will not be interrupted or distracted.
If possible, use a land line. A cell phone can go dead or suffer from static. If your room is not interruption free, consider reserving a study room in the library. If you are on a Skype call, make sure the background images are not inappropriate or messy. You can have your resume, letter and extra paper out, but do not waste time looking things up during the call.
3. Animate your conversation.
Phone interviews may sound flat. Why? Facial expressions can't be communicated over the phone. If you are a bit nervous to begin with, you may come across sounding monotone and lacking personality. So talk with your hands and put a smile on your face. It can help you come to life. Use your voice to express interest and enthusiasm.
4. Be attentive to tone of voice.
During a phone interview you have no visual cues that convey the nuances of the conversation. Listen attentively for cues from the interviewer to determine whether you are answering effectively, providing enough detail, and giving appropriate examples. Pauses may seem interminably long on the phone, but give yourself permission to pause after listening carefully to a question to craft your response before answering.
5. Prepare questions to ask your interviewer.
As in an in-person interview, do your homework and be prepared to ask questions based on your knowledge of the position and/or the employer. Your questions should reflect your interest in the position and demonstrate professionalism.
Need Practice?
The career counselors of the Student Engagement Center provide the opportunity to practice your interview skills. To schedule a mock interview appointment, call 527-5183.