---
Whitman News

Whitman College student wins prestigious
Watson Fellowship
Whitman College student Victoria "Tory" Davidson '15 has been awarded a prestigious Watson Fellowship. The $30,000 award will allow Davidson to travel internationally for a year after graduation to work on her proposed research project examining how theater can help aid the emotional recovery of refugees.
Read more


Professor Kate Jackson on team that discovers new species of snake
Associate Professor of Biology Kate Jackson has identified a new species of snake from the Democratic Republic of Congo. Jackson's research was recently published in African Journal of Zoology.
Read more


Mission to Mars
Ethan Dederick '14 has come one small step closer to being the first human on Mars: two years after applying to be an astronaut with nonprofit Mars One, the organization has named Dederick one of 100 finalists for a spot on its first manned mission.
Read more and watch the video


---
Events
Helping Babies in Poverty Overcome the Achievement Gap •
Seattle, WA

Faculty Presentation: Professor of Psychology Melissa Clearfield will present some work from her lab showing that babies as young as 6 months of age show deficits in basic cognitive skills like attention and object exploration.
April 4, 2015 • 3:00 p.m. • Crowne Plaza * Seattle, Yellowstone Room
Read more and RSVP online


East of Yellowstone: Geology of Clarks Fork Valley and the Nearby Beartooth and Absaroka Mountains • Spokane, WA

April 18, 2015 • 2:30 p.m. • South Hill Library
Phillips Professor of Geology and Environmental Studies Robert J. Carson will guide listeners through one of the most fascinating natural theaters in the world, interpreting the geologic story of the terrain east of the Yellowstone National Park.
Read more and RSVP Online


More Events
---
SAVE THE DATE! Receptions For President Bridges
Join us this spring for a series of special receptions honoring Whitman's 13th President, George S. Bridges, and recognizing the accomplishments of the Now Is the Time Campaign:


Tuesday, May 5 – Portland, Oregon, at the Sentinel Hotel
Wednesday, May 6 – Kirkland, Washington, at the Woodmark Hotel
Monday, May 11 – Palo Alto, California, at the Sheraton Hotel
Wednesday, May 13 – Washington, D.C., at Hotel Monaco
Thursday, May 14 – New York City, New York, at The Harvard Club



---
Whitman College Commencement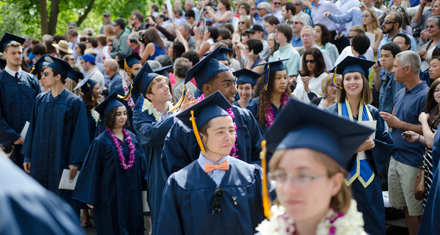 Sunday, May 24, 2015
11:00 a.m. - 1:00 p.m.
Memorial Building South Lawn

For more information visit the commencement page.


---
Mark Your Calendar for GiveBIG
on May 5, 2015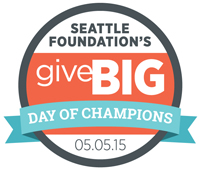 Join Whitman College and the Seattle Foundation for a once a year
S T R E T C H by donating during GiveBIG day on May 5, 2015. All gifts to Whitman via GiveBIG 2015 will benefit today's students and will count toward our alumni participation rankings.

Additional details to follow in May.



---
SEC announces this year's five international internship grant recipients
This upcoming summer five outstanding Whitman students will pursue five very different internships in five countries on five continents. The grant recipients are Ludmila de Brito '18, Haley Case '17, Sara Teplow '16, Sage Malecki '18, and Chloe Weinstock '17.
Read more


---
Summer College 2015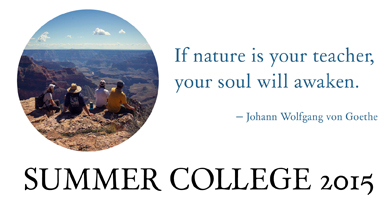 June 25-28
See the schedule of lectures, optional afternoon activities and dinners.
Register online.


---
Golf Tournament
Whitman Men's Basketball hosts their annual "Threes and Tees" Golf Tournament and Banquet, April 23 at the Broadmoor Golf Club in Seattle. Email Assistant Men's Basketball Coach Matt Airy for more information.
---
Parting Shot
Photo by Matt Banderas '04, Whitman visual editor/photographer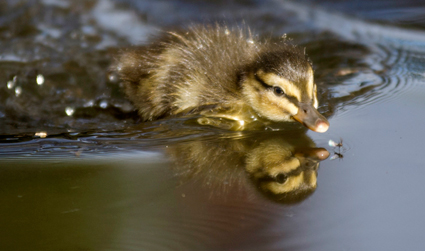 A duckling hunts for his next meal on College Creek.


---
Save the Date!
Family Weekend
October 23-25, 2015
Read more
---
Support the Parents Fund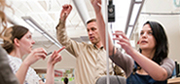 Make an online gift now.
---
Student Engagement Center (SEC)
Learn more about the SEC from their web site.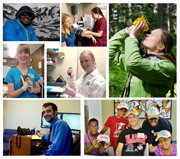 ---
Athletics

Join the excitement
---
Academic Calendar
Academic calendars are produced by the Registrar's Office and contain important academic and registration deadlines. Calendars for the next few years have been provided as a convenience but please be aware that dates are tentative and could change.
Read more

---
College Bookstore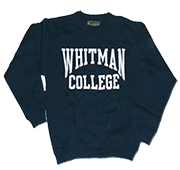 Buy online
---
Whitman Magazine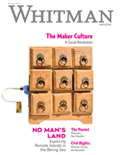 View online
---