In This Issue:
Whitman News
Events
Family Weekend
We're Moving
New Trips Announced
2013-14 Academic Schedule
Parting Shot
Connect Online:
Events for Parents/Alumni
Student Engagement Center
Change My Address
Whitman Magazine Online
Athletics
Campus Events
---
Your support for Whitman makes a difference.

---

Visit the new web site for the Campus Bookstore.
---

---
Whitman in Ashland
Save the Dates
August 1-3, 2014

---
Whitman News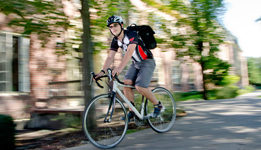 First-year takes a long bike ride to school
It's a rite of passage. Come the start of fall, 18-year-old college students load cars with all the stuff that they can possibly squeeze into their dorm rooms and head to college. Colin McCarthy '17 bucked this trend, hopped on his bicycle, and pedaled 180 miles from Spokane, Washington to Walla Walla.
Read More

Whitman rises in U.S. News and World Report rankings
U.S. News and World Report gives Whitman College an overall ranking of 41 among the nation's liberal arts colleges, up two spots from last year. Whitman tied with four other colleges, including Occidental College.
Read More


The 2013-2014 Academic Year Opens with Convocation Ceremony
First-year students, their families and new faculty members gathered in Cordiner Hall last Friday, August 30 for the opening of the 2013-14 academic year.
Read more.
Move-in Day: The Class 2017 arrives on campus
"Move-in day is one of the most exciting days of the year," said Chuck Cleveland, dean of students. "It's always exciting to see the new students, but it's the look of pride and joy on the parents' faces. They are so happy that their kids are coming to Whitman College."
Read more.
Students network with alumni during Fall Reunion Weekend
At the Reid Campus Center Coffeehouse, students had the opportunity to connect with a host of interesting alumni, from a brew master, to a wealth management guru, to an opera singer.
Read more.
Visit the Newsroom.
---
Events
A Taste of Whitman • Seattle, WA and Portland, OR

Seattle, WA • October 14, 2013 • 6:30 p.m. • MOHAI (Museum of History and Industry)
Read more and RSVP online for Seattle
Portland, OR • October 16, 2013 • 6:30 p.m. • Portland Art Museum
Read more and RSVP online for Portland

Whitman alumni and parents are invited to join President Bridges in Seattle and Portland for A Taste of Whitman. Learn how the Now Is the Time Campaign is enhancing the student experience. Interact with faculty and staff for "a taste" of Whitman in 2013 and a sampling of Walla Walla wines. You will be invited to join the campaign, which is helping develop cross-disciplinary thinkers who will make a difference in our communities and our world.
---
Family Weekend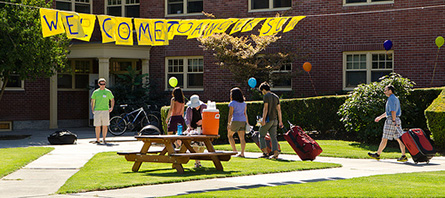 October 25-27, 2013
Whitman College's Family Weekend 2013 will begin 3:00 pm Friday, October 25 and will end Sunday, October 27. Parents can register on site in the Reid Campus Center.
Read more and view the schedule of events.


---
We're Moving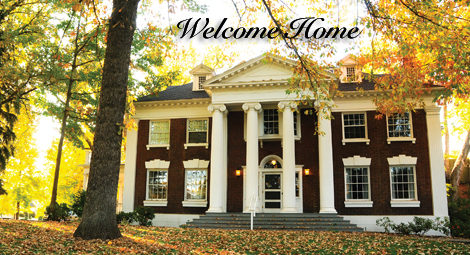 We are moving!
The offices of Alumni Relations and Annual Giving are moving to Baker Center in mid-October. Alumni, parents and friends are invited to an Open House on Friday, November 8, from 4:30-6 p.m. Come for a tour led by members of the Alumni Association Board of Directors. Light refreshments will be served. Read More
---
New Trips for Alumni and Parents Announced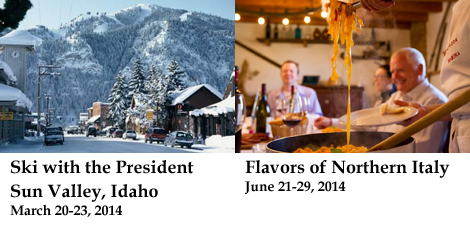 Read more about these trips and others.
---
2013 - 2014 Academic Schedule
Whitman Schedule

Fall Semester 2013



October 14-15


Midsemester break; no classes.
October 16, Wednesday


Last day to drop from classes or the college without record.
October 25-27


Family Weekend.
November 7-13


Preregistration period for the spring semester 2014.
November 8, Friday


Final day to withdraw from classes or the college with W grades. Close of P-D-F registration period.
November 22, Friday


Thanksgiving vacation begins at 6 p.m., Friday and ends at 8 a.m., Monday, December 2. All residence halls remain open.
---
Parting Shot
Parting Shot by Matt Banderas '04
, Whitman photographer

Women's Soccer beat Whitworth 2-0 in their conference opener September 13th.
View full size image.
---