In This Issue:
Whitman News
Events
SEC Newsletter
Support the Whitman Parents Fund
2013-14 Academic Schedule
Parting Shot
Connect Online:
Events for Parents/Alumni
Student Engagement Center
Change My Address
Whitman Magazine Online
Athletics
Campus Events
---
Your support for Whitman makes a difference.

---

Visit the new web site for the Campus Bookstore.
---

---

---
Whitman News
Whitman Students Hit it Out of the Park at Research Conference
Whitman students gave two talks at the conference. Nilce Alvarez '14 and Lucas Ramadan '14 presented as a team, while Nick Davies '14 was a solo presenter. The other students presented posters. The 212 total posters were divided into 11 categories by subject. One prize was awarded per category, which is where Whitties triumphed.
Read More.


The Pioneer receives a top honor from the Associated Collegiate Press
The Pioneer came home a recipient of the Pacemaker award, the highest honor presented by the Associated Collegiate Press.
Read more.


Model United Nations team wins in Washington, D.C.
The National Model United Nations D.C. conference in the nation's capital attracted more than 800 students from across the world, from Walla Walla, Wash., to Marseilles, France. Whitman's three-person delegation – small by comparison with most – received two awards and an invitation to attend the prestigious Harvard Model United Nations Conference next year.
Read more.


Whitman students take top honor at the first Global Entrepreneurship Week ceremony
Over 100 community members, including representatives from the three local higher education institutions, the Chamber of Commerce, the City Council and the Washington Department of Commerce, attended the Global Entrepreneurship Week ceremony on Nov. 19, where Whitman students John Lee '16, Cody Burchfield '16 and Fernando Medina Corey '14 walked away with first prize in the Pain in the Glass contest.
Read more.
Whitman alumna honored for her medical work in Uganda
On January 9, 2014, alumna Dr. Stephanie Van Dyke '99 has just been presented with the eTown E-Chievement Award. This is in recognition of the work she performs with Engeye, Inc., a non-profit that offers a health clinic and education outreach program to rural Ugandan communities.
Read more.


#4 Women's Hoops Victorious In Battle Of The Undefeated
The Whitman College women's basketball team showed why they're the No. 4 team in the NCAA Division III, as they traveled to George Fox University and beat the unbeaten Bruins on their home court, 75-63, on Saturday, Jan. 18.
Read more.


Top Stories in Whitman Athletics
Check out the lastest stories, videos and stats in Whitman athletics.
Read more.


Visit the Newsroom.
---
Events
A Taste of Whitman • Santa Ana, CA

January 25, 2014 • 1:30 p.m. • Hosted by: Adam Burgener '00
Read more and RSVP online.


W Club Tailgate Event • Portland, OR

February 22, 2014 • 4:00 p.m. • Lewis & Clark Pamplin Sports Center
The Women's game starts at 4 p.m., the Men's game begins at 6 p.m.
Read more and RSVP online


Reception with President George Bridges • Palm Desert, CA

March 14, 2014 • 5:00 p.m. • Desert Willow Golf Resort
Read more and register online


Ski with the President • Sun Valley, ID

March 20-23, 2014 • Sun Valley Resort
Read more and register online


---
Student Engagement Center monthly newsletter
Read about upcoming events hosted by the Student Engagement Center.


---
Support the Whitman Parents Fund!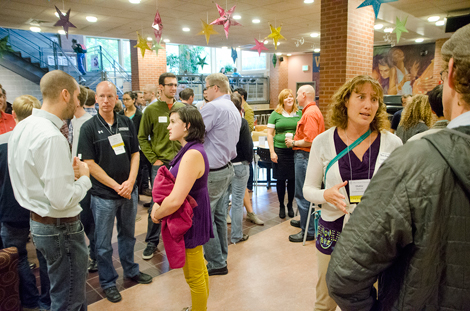 This year, the goal for the Parents Fund is to raise $200,000 for the Student Engagement Center to help support the wide range of programs and services offered by their office. These services include career counseling, internship opportunities, career contacts, community service and volunteer programs, experiential and service learning and graduate school preparation. To learn more, visit the Student Engagement Center website.

To make a Parents Fund gift to support the SEC, go to whitman.edu/give.
---
2013 - 2014 Academic Schedule
Whitman Schedule

Spring Semester 2014


January 17, Friday


Orientation for new students and parents begins.
January 19, Sunday


Residence halls open at 9 a.m. for returning students.
January 20, Monday


Martin Luther King, Jr. Day, no classes.
January 21, Tuesday


Spring semester classes begin.
January 31, Friday


Last day to add classes.
February 17, Monday


Presidents' Day; no classes.
February 28, Friday


Last day to drop from classes or the college without record.
March 14, Friday


Spring vacation begins at 6 p.m., Friday (all residence halls close at 9 a.m., Saturday, March 15) and ends at 8 a.m., Monday, March 31 (all residence halls open at noon, Sunday, March 30).
April 8, Tuesday


Whitman Undergraduate Conference; no classes.
---
Parting Shot
Parting Shot by Matt Banderas '04
, Whitman communications officer/photographer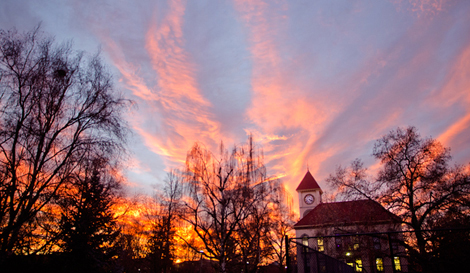 A brilliant winter sunset warms the sky.

---