In This Issue:
Whitman News
Holiday Transportation
Parents Fund
Information and tips from the Student Engagement Center
Events
2014-15 Academic Schedule
Parting Shot
Connect Online:
Events for Parents/Alumni
Student Engagement Center
Change My Address
Whitman Magazine Online
Athletics
Campus Events
---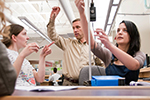 Your support for Whitman makes a difference.
Make an Online Gift Now.
---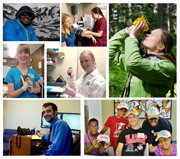 Learn more about the SEC from their web site.
---

Visit the
Campus Bookstore online.
---

---
Whitman News
The Whitman College experience
The Whitman Office of Communications has released a new promotional film for the College. You can watch the video here.


Finding Harmony on campus

Although Harmony (Paulsen) Burright '06 lives on a sailboat, she learned what it truly means to feel adrift during her first year at Whitman College. As a first-generation college student, she felt out of place among her peers — students from non-working-class backgrounds seemed so sure of themselves, like they already knew how to do college. Even the other first-year students.
Read More

Whitman names Fall Interns and 2014-2015 Community Fellows
How does a Whitman student go about landing a high-impact internship? Take it from Skye Vander Laan '15, who has recently been named one of Whitman's 11 fall interns: the answer is definitely not lurking somewhere inside your comfort zone.
Read More
Whitman Debate Argues Their Way to No. 1
Though their season has just begun, Whitman's debaters have taken an early lead with some significant successes. The National Parliamentary Debate Association, one of the two formats of debate in which Whitman students compete, has recently released its rankings for college teams around the country. Whitman ranks first out of 120 teams, with a total of 80.17 points.
Read More


Visit the Newsroom
Media Clips
---
Transportation to Pasco, Seattle and Portland for Thanksgiving and Winter breaks.
The Reid Campus Center is organizing a shuttle service between campus and the Pasco Airport. The shuttle will run from the Reid Campus Center to the Pasco Airport four times on Friday, November 21, and from the Pasco Airport back to campus four times on Sunday, November 30. The cost is $15.00, which will be charged to the student's account. To reserve a spot on the shuttle, fill out an online reservation form.

The Whitman Express Buses depart from the Reid Campus Center for Portland and Seattle during the Thanksgiving and Winter breaks. Schedules and prices can be found here. For questions about the various shuttles to Pasco, Seattle and Portland, please contact Paul Dennis in the Reid Campus Center at 509-527-5208.


---
The Whitman Parents Fund

This year, the fundraising effort for the Parents Fund is focused on supporting internships and the vital work of the Student Engagement Center (SEC). Today, there is increased student interest in and demand for experiences in the for-profit and not-for-profit sectors. In response, the SEC is growing thoughtfully and strategically. To learn more about the SEC and the how they are growing, visit their website at whitman.edu/sec. You can easily make an online gift to support internships and other SEC programs.


---
Information and tips from the Student Engagement Center
Read the latest issue of the SEC Newsletter.

Parents can be a huge help when it comes to making sure that their daughters and sons understand the many resources available on campus for thinking about life after Whitman. View a few ideas of topics to bring up in that Skype call or email to your children.
Read more


---
Events

Student-Professor Research Collaboration: The Case of Jordanian Archaeology
With Professor of Anthropology Gary Rollefson
Seattle, WA • November 8, 2:30 p.m. • Asian Art Museum
Read More
Portland, OR • December 6, 2:30 p.m. • Architectural Heritage Center Read More

Harper Joy 2014-2015 Season • Walla Walla, WA

John Muir Wolf by Jimmy Maize '02
November 12-16, 2014 • Freimann Studio Theatre
Read more


Geology ROCKS! • San Francisco, CA

December 16, 2014 • 6:00 p.m. • Hotel Adagio, The Green Room
Read more and RSVP Online


---
2014 - 2015 Academic Schedule
2014-2015 Calendar
---
Parting Shot
Parting Shot by Matt Banderas '04
, Whitman communications officer/photographer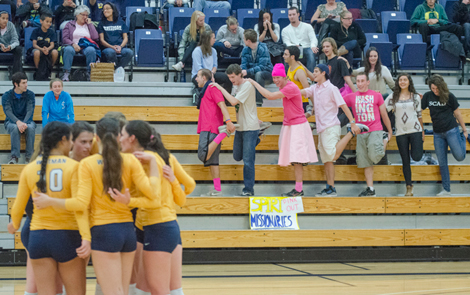 Supporters dressed in pink for National Breast Cancer Awareness Month stretch their limbs before stretching their lungs at a Women's Volleyball game.
---