In This Issue:
Whitman News
Events
Whitties Helping Whitties
SEC Newsletter
Support the Whitman Parents Fund
2013-14 Academic Schedule
Parting Shot
Connect Online:
Events for Parents/Alumni
Student Engagement Center
Change My Address
Whitman Magazine Online
Athletics
Campus Events
---
Your support for Whitman makes a difference.

---

Visit the new web site for the Campus Bookstore.
---

---

---
Whitman News
Whitman College Plans Search for New Leader
On February 27, 2014, Whitman College President, George Bridges, announced his decision to conclude his service in the College's top leadership position on June 30, 2015.
Read more.


FINAL FOUR
Whitman's win in a NCAA Division III women's basketball sectional final clinched the program's first trip to the national semifinals, where it will face 13th-ranked University of Wisconsin-Whitewater (26-4) on March 21 in Stevens Point, Wisconsin.
Read more.


Whitman joins forces with Koru to offer work experience for students and graduates
Whitman announced the addition of Koru, a Seattle-based startup, to the array of resources that are offered to Whitman College students and alumni as they build their post-Whitman futures.
Read more.


Whitman is a Princeton Review "Best Value College" 2014

According to The Princeton Review, Whitman College is one of the nation's 150 "Best Value Colleges." Institutions that make the list combine stellar academics with affordability.
Read More.


Top Stories in Whitman Athletics
Check out the lastest stories, videos and stats in Whitman athletics.
Read more.


Visit the Newsroom.
---
Events

Ski with the President • Sun Valley, ID

March 20-23, 2014 • Sun Valley Resort

Read more and register online




E U R Y D I C E, by Sarah Ruhl • Walla Walla, WA

April 16-20, 2014 • Harper Joy Theatre, Freimann Studio Theatre
Read more about this play and others.


---
Whitties Helping Whitties Networking Events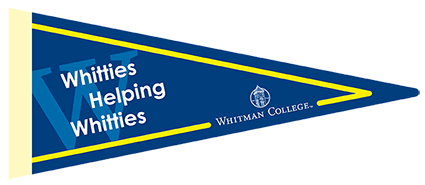 Whitties Helping Whitties is a new series of events targeted at creating a professional Whitman community in key locations where we know Whitties want to reside and work. In keeping with the Whitman tradition of giving back, we encourage you to share in this night of networking - share your story, meet other Whitties working in your community and encourage those about to embark on their professional adventure.

Talk to your student about attending an event near you over Spring Break!
---
Student Engagement Center monthly newsletter
Read about upcoming events hosted by the Student Engagement Center.


---
Support the Whitman Parents Fund!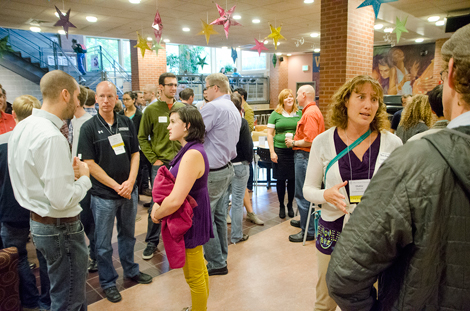 This year, the goal for the Parents Fund is to raise $200,000 for the Student Engagement Center to help support the wide range of programs and services offered by their office. These services include career counseling, internship opportunities, career contacts, community service and volunteer programs, experiential and service learning and graduate school preparation. To learn more, visit the Student Engagement Center website.

To make a Parents Fund gift to support the SEC, go to whitman.edu/give.
---
2013 - 2014 Academic Schedule
Whitman Schedule

Spring Semester 2014


March 14, Friday


Spring vacation begins at 6 p.m., Friday (all residence halls close at 9 a.m., Saturday, March 15) and ends at 8 a.m., Monday, March 31 (all residence halls open at noon, Sunday, March 30).
April 8, Tuesday


Whitman Undergraduate Conference; no classes.
April 11, Friday


Final day to withdraw from classes or the college with W grades. Close of P-D-F registration period.
April 25-30


Preregistration period for the fall semester 2014.
May 13, Tuesday


Last day of classes, spring semester.
May 14, Wednesday


Reading day; no classes. Honors theses due in library for Spring thesis candidates.
May 15-20


Final examination period.
May 22, Thursday


Residence halls close at 5 p.m.
May 25, Sunday


Commencement.
---
Parting Shot
Parting Shot by Matt Banderas '04
, Whitman communications officer/photographer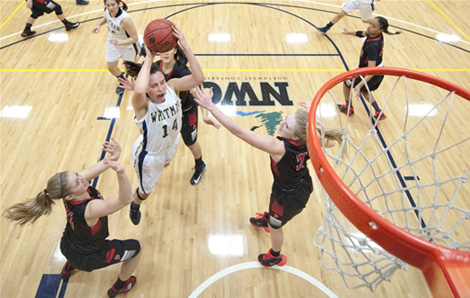 On her way to a double-double (points and rebounds), is Meghan White '14. Whitman is the Northwest Conference's No. 1 nationally-ranked women's basketball team in Div III.

---