In This Issue:
Whitman News
Parents Fund
Student Engagement Center - January - February Newsletter
Events
Summer College
2014-15 Academic Schedule
Parting Shot
Connect Online:
Events for Parents/Alumni
Student Engagement Center
Change My Address
Whitman Magazine Online
Athletics
Campus Events
---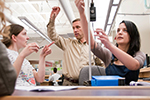 Your support for Whitman makes a difference.
Make an Online Gift Now.
---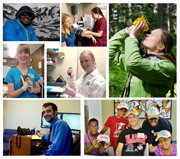 Learn more about the SEC from their web site.
---

Visit the
Campus Bookstore online.
---

---
Whitman News
Whitman College professor and students discover new species in the deepest trench on earth
Whitman biology professor Paul Yancey and students Anna Downing '16 and Chloe Weinstock '17 have returned from the first detailed study of the Mariana Trench aboard Schmidt Ocean Institute's research vessel Falkor.
Read more


My Esteemed Colleagues
Whitman's debate team returned to the Washington State Penitentiary for the second annual debate between inmates and Whitties.
Read More
All About That Bass
When professional opera singer Adam Lau '06 started college at Whitman, he was absolutely sure about one thing: "Marine biology. Boom. I was set." A master's degree in vocal performance, a young artist residency at the Florida Grand Opera, a host of glowing reviews for main-stage performances and a pile of vocal competition wins later, Lau has reconsidered.
Read More
Visit the Newsroom
Media Clips
---
The Whitman Parents Fund

This year, the fundraising effort for the Parents Fund is focused on supporting internships and the vital work of the Student Engagement Center (SEC). Today, there is increased student interest in and demand for experiences in the for-profit and not-for-profit sectors. In response, the SEC is growing thoughtfully and strategically. To learn more about the SEC and the how they are growing, visit their website at whitman.edu/sec. You can easily make an online gift to support internships and other SEC programs.


---
Student Engagement Center - January - February Newsletter
Students will have the opportunity to participate in the SEC's new Spring Break Job Shadow program. Applications for a Summer Internship Grant are due March 4!
Read more in the SEC Newsletter


---
Events
Faculty Lecture: Love Letters Lost? Gender and the Preservation of Digital and Paper Communication from Romantic Relationship • Seattle, WA and Portland, OR

Professor of Sociology Michelle Janning will discuss Gender and the Preservation of Digital and Paper Communication from Romantic Relationships

February 7, 2015 • 2:30 p.m. • Seattle, WA • Seattle Art Museum, Simons Board Room
Read more and RSVP online

February 14, 2015 • 2:30 p.m. • Portland, OR • McMenamins Kennedy School, The Jordan Room
Read more and RSVP online



W Club Basketball Tailgate • Tacoma, WA


February 20, 2015 • University of Puget Sound, Memorial FieldhouseRoom 117, Court Level
Whitman sports fans! Join members of the W Club to celebrate the grit and perseverance of the Women's and Men's basketball teams. They illustrate the W Club's belief in the principle of excellence. The Women's game starts at 6 p.m. and the Men's game starts at 8 p.m.
Read more and RSVP Online




---
Summer College 2015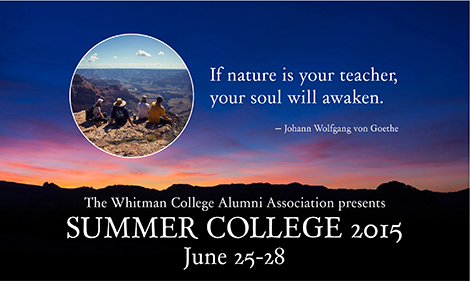 A multi-day College experience exploring the natural world from a Liberal Arts perspective. Save the dates, details will be available soon.

Want to see a sample of what we did last year at Summer College 2014? Take a look.
---
2014 - 2015 Academic Schedule
2014-2015 Calendar
---
Parting Shot
Parting Shot by Matt Banderas '04
, Whitman visual editor/photographer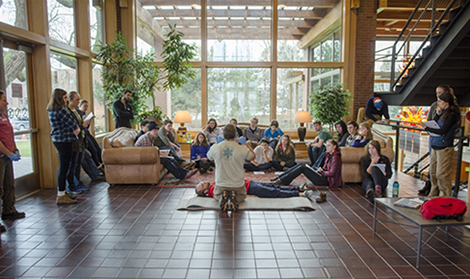 Students return to campus early to take part in a Wilderness First Responder course, learning how to deal with emergency medical situations in remote locations.
---