In This Issue:
Whitman News
Events
2014 Summer Internships
Save the Date for Family Weekend 2014
2014-15 Academic Schedule
Portraits of the Past
Parting Shot
Connect Online:
Events for Parents/Alumni
Student Engagement Center
Change My Address
Whitman Magazine Online
Athletics
Campus Events
---
Your support for Whitman makes a difference.

---

Visit the new web site for the Campus Bookstore.
---

---
Whitman News
Whitman alumna looks to the stars
Suzanne Rosik Dodd '83 works at NASA's Jet Propulsion Laboratory, where she manages the Spitzer Space Telescope, the Voyager Interstellar Mission, and the Nuclear Spectroscopic Telescope Array (NuSTAR) projects.
Read More
Whitman College hosts the annual American Association of Wine Economist conference
Between June 22 and 25, wine industry experts from business, academia and government gathered on the Whitman College campus for the eighth annual conference of the American Association of Wine Economists.
Read More
Whitman finishes with a record place in Sports Directors' Cup
According to the National Association of Collegiate Directors of Athletics, Whitman College ranked 56th nationally, with a total of 325 points, in the 2013-14 Division III Learfield Sports Directors' Cup. This is Whitman's highest ever placement in the national Div. III all-sports race, and the college is the top-ranked school in the Northwest Conference.
Read More

Whitman adds 11 new tenure-track faculty members
Whitman College has announced the addition of 11 new tenure-track faculty members, effective for the 2014-2015 academic year. "This is an extraordinarily talented group of faculty members," said Timothy Kaufman-Osborn, provost and dean of the faculty. "I am confident that each and every one will make a significant contribution to the Whitman academic program." The additions to the faculty reflect the "Now Is the Time" campaign goals, which include expanding the depth and breadth of the curriculum by strengthening the faculty. "In virtually every case, we were able to hire our first choice candidates, which speaks very well of Whitman College and its reputation," said Kaufman-Osborn.
Read More


Faculty News Briefs
Visit the Newsroom
---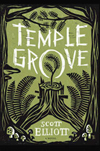 Events
Port Townsend Reading and Reception with Scott Elliott, Professor of English and Creative Writing • Port Townsend, WA

August 1, 2014 • 7:00 p.m. • Jefferson County Historical Society First Friday Lecture, Port Townsend City Council Chambers
Read more





---
2014 Summer Internships
Whitman College embraces internships as a valued addition to a liberal arts education. Students who participate in internships:
explore their interests

apply academic and theoretic work from their classes in organizations, businesses and government offices

develop professional skills

learn from professionals in the career field of their choice,

and "test drive a career."
This summer, 120 Whitman students were awarded grants to help them have extraordinary internship experiences. Learn about this summer's internships.

Read more about Whitman's internship programs and how to get started.



---
Save the Date for Family Weekend 2014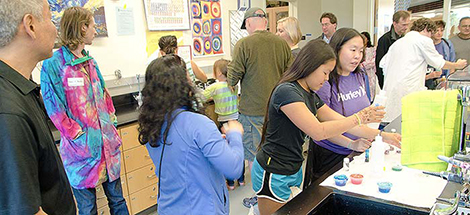 Family Weekend • Walla Walla, WA

Friday, October 24 - Sunday, October 26
View the tentative schedule of events.



---
2014 - 2015 Academic Schedule
2014-2015 Calendar
---
Portraits of the Past: Penrose Library launches a digital exhibit

Penrose Library recently launched a digital archive of photographs illustrating the history of Whitman College. This archival exploration of 125 years of history, titled "Portraits of the Past," is the result of months of collaborative work. The project was conceived by former Systems and Applications Librarian Dan Martensen and carried out by Ben Roberson '14, Instructional and Research Librarian Ben Murphy and Archivist & Special Collections Librarian Melissa Salrin. Additional support for the creation of the exhibit was given by Director of Penrose Library Dalia Corkrum and the Office of Alumni Relations.

View the exhibit.
---
Parting Shot
Parting Shot by Matt Banderas '04
, Whitman communications officer/photographer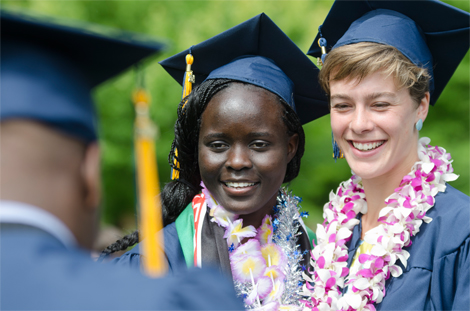 Snapping photos at Commencement.
---