Communications Staff
Our Vision
Whitman's Department of Communications is a team of professionals who are experts in both their specialty areas and customer service.
The team works in concert to develop communications ideas and strategies and execute action plans that help advance Whitman's mission.
Our Mission
To promote Whitman College as a liberal arts institution of national significance.
To communicate the goals and accomplishments of Whitman's people, programs and departments.
To support cultivation and stewardship efforts targeting each of the college's constituencies.
Our Team
---
Ruth Wardwell
Assistant Vice President of Communications
Ruth Wardwell joined Whitman as director of communications in June 2005 after nearly 14 years as director of public relations and news services for Chapman University in Orange, California. Ruth, who is a Chicago native, earned her bachelor's degree in special education from Western Illinois University in Macomb, and for 10 years she worked with mentally and physically disabled individuals. In 1989, after embarking on a second career in public relations, she earned a certificate in marketing communications from the University of California, Irvine, and shortly after that joined the staff at Chapman.
Office: (509) 527-5768
E-mail: wardwers@whitman.edu
Location: 320 Memorial Building
Chris Bishop
Publications Design Manager
Chris Bishop '79, publications design manager, oversees major campus publications, including development and alumni projects. A lifelong local resident, Chris graduated from Whitman with degrees in studio art and education. During the 1980s she worked as a graphic artist and later was director of Carnegie Art Center. Chris and husband Larry Bishop '76 live on a wheat ranch in the foothills of the Blue Mountains. For recreation, Chris practices figure skating and hones her improv dance skills. Nominated by her colleagues, Chris is a 2005 recipient of the Janice Abraham Award, which recognizes the significant contributions and outstanding service of Whitman staff members.
Office: (509) 527-5769
E-mail: bishopc@whitman.edu
Location: 327 Memorial Building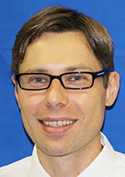 David Brauhn
Editor/Associate Director of Communications
David Brauhn, editor/associate director of communications, came to Whitman in August 2011 from the Walla Walla Union-Bulletin. In his 13 years of experience in the publishing and news industries, he has won awards for his writing, photography, design and illustration work. Most recently, he earned a Northwest Excellence in Journalism Award for his illustration portfolio from the Society for Professional Journalists, and he was part of the team that earned a C.B. Blethen Memorial Award for deadline reporting. He holds a bachelor's degree in writing from Dickinson State University in North Dakota and attended the graduate school for creative writing at Minnesota State University, Mankato.
Office: (509) 527-5169
E-mail: brauhndm@whitman.edu
Location: 323 Memorial Building
Travis Congleton
Publications Designer
Travis Congleton, publications designer, joined Whitman in March, 2006. He assists Chris Bishop in the design of campus publications and spends most of his time working on posters, brochures and handbooks for the college. Travis graduated from Walla Walla University in 2006 with a major in Graphic Design and loved the Walla Walla area so much he decided to stay. He is originally from Battle Ground, Washington. Travis' hobbies include music, painting, photography, and coffee. On most weekends he can be found downtown drinking coffee with his friends.
Office: (509) 527-4966
E-mail: congletj@whitman.edu
Location: 327 memorial Building
Carlos Virgen
Web Content Specialist
Carlos Virgen, web content specialist, joined Whitman in April of 2013 after working as online manager for 6 1/2 years at the Walla Walla Union-Bulletin. In that time, he helped the newspaper make the transition from a print-focused organization to a company that delivers its content on multiple digital platforms. He also won two SPJ Northwest Excellence in Journalism awards for multimedia projects. He moved to Walla Walla from Los Angeles in 2006 and is married with four children. In his spare time, he produces video content, develops websites and produces electronic music.
Office: (509) 527-4412
E-mail: virgencr@whitman.edu
Location: 327 memorial Building
Michael Cox
Online Content Assistant
Michael Cox, online content assistant, joined Whitman in January 2012. His responsibilities are focused on editing web content to ensure that pages and sites are accurate and effective, and he helps staff, faculty and students create and enhance their web communications. Originally from southern Idaho, he graduated from Eastern Washington University in 2011 with bachelor's degree in visual communication design and worked as a cartoonist for the school's newspaper.
Office: (509) 527-5807
E-mail: coxmr@whitman.edu
Location: 327 Memorial Building
Gillian Frew
Media Relations Officer
Gillian Frew, media relations officer, is a 2011 graduate of Whitman College. She has previously interned in the Whitman Office of Communications as a writer and served as editor-in-chief of student newspaper The Pioneer. In 2009, she was responsible for bringing Pulitzer Prize-winning journalist Thomas Ricks to campus. She has also participated in the America Reads program, tutoring in a local bilingual kindergarten, and spent a semester abroad in Madrid, Spain, where she volunteered at a Spanish publishing house.
Office: (509) 527-4917
E-mail: frewga@whitman.edu
Location: 321 memorial Building
Greg Lehman
Communications Officer/Photographer
Greg Lehman joined the Communications staff in May of 2008, after 18 years as chief photographer at the Walla Walla Union-Bulletin and two years of semi-retirement. With a degree in broadcast/journalism from Pacific Lutheran University, he worked as a professional radio announcer until the call of his cameras became too loud to ignore. He continues to operate Greg Lehman Photography, doing weddings, portrait and commercial work throughout the Northwest. He won the heart of the beautiful and talented Ann many years ago and lives with her in what they call "The House of Milk and Honey" in rural Walla Walla.
Office: (509) 527-5969
E-mail: lehmangc@whitman.edu
Location: 327 Memorial Building
Linda Marshall
Mailing Coordinator
Linda Marshall joined Whitman in the fall of 2008, bringing with her more than 14 years of experience with the USPS. Originally from Nebraska, Linda lives in Prescott with her two teen-age children, Alisha and Beau. When not at work, you can find Linda either volunteering with the Prescott Lions Club, or the Prescott Parks and Recreation District, Prescott School District, or watching her children participate in school activities.
Office: (509) 527-5793
E-mail: marshals@whitman.edu
Location: Boyer House
Homero Menchaca
Mailing Technician
Homero Menchaca joined Whitman in the fall of 2008, following a 30-year career with the Milton-Freewater office of the USPS. He and his wife of 33 years, Berzaida, have three children and five grandchildren; they have lived in M-F since moving from Texas in 1977. In his spare time, you can find Homer with one of his grandchildren, golfing, barbecuing, fishing, or watching his favorite football team, the Dallas Cowboys.
Office: (509) 527-5266
E-mail: menchahg@whitman.edu
Location: Boyer House
Edward Weinman
Writer
Edward Weinman's debut crime thriller, The Ring Road, was a Barnes & Noble Nook First Pick— "compelling reads from emerging authors." Before arriving at Whitman, Edward spent eight years in Reykjavik, Iceland, working as a travel writer, reporting from cities across Europe. Edward penned the feature film "A Little Trip to Heaven," a psychological thriller starring Oscar-winner Forest Whitaker, Oscar-nominee Jeremy Renner and Julia Stiles. Edward earned his MFA in writing, literature and publishing from Emerson College in Boston. Follow Edward at: https://www.facebook.com/TheRingRoad and https://twitter.com/edwardweinman1
E-mail: weinmaem@whitman.edu
Mem 320
Amber Dobbs
Communications Operations Manager
Amber Dobbs, communications operations manager, keeps the Office of Communications running smoothly. From her office in Boyer House, she maintains the department's budget, serves as the college's print buyer and oversees outsource printing, manages the outgoing mail service and participates in planning and executing Commencement week and other major events. Amber is active in volunteer work in the community, including providing literacy tutoring to adults and running adopt-a-family programs at Christmas. In her leisure time she enjoys gardening, camping, hiking and fishing.
Office: (509) 527-5160
E-mail: dobbsar@whitman.edu
Location: Boyer House