WALLA WALLA, Wash. — Adding to his legacy as one of the best and brightest of recent student athletes at Whitman College, tennis ace Conor Holton-Burke has earned a spot on the Capital One Academic All-America First Team.
Holton-Burke
Holton-Burke, who graduated summa cum laude last month, is one of 15 athletes from around the nation who received first-team honors on the NCAA Division III At-Large Team, which represents several sports ranging from tennis and golf to swimming, wrestling and ice hockey.
The At-Large selections were announced earlier this week. An additional 30 athletes were voted to the Second and Third teams.
Since its inception in 1952, the Academic All-America program has honored more than 14,000 student athletes in all NCAA championship sports. The program, sponsored by Capital One, is administered by the College Sports Information Directors of America (CoSIDA).
Holton-Burke, the 2011 Northwest Conference (NWC) Player of the Year for men's tennis, is only the second Whitman athlete to earn first-team academic recognition at the national level.
About three dozen Whitman athletes have made Academic All-District teams since Whitman began submitting nominations a decade ago.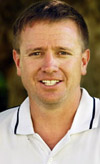 Northam
Nearly a third of those athletes have also reaped national honors, although Holton-Burke and tennis player Christoph Fuchs in 2010 are the only two to receive first-team recognition (Fuchs is continuing his medical school studies at the Baylor School of Medicine).
"This is a well deserved honor for Conor," Whitman coach Jeff Northam says. "I've never had a student athlete who worked as hard in the classroom and on the court as Conor.
"He's also been the best of examples for our younger players, showing them how much time and dedication in takes to become a great player and a great student at a school like Whitman, one of the top academic colleges in the country. His teammates voted Conor as our Most Inspirational Player this past season, and it's easy to see why."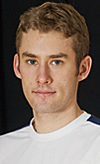 Fuchs
Holton-Burke, a graduate of Fairview High School in Boulder, Colo., had to fight for court time as a Whitman freshman, starting his college career near the bottom of a talented 17-man roster.
He showed plenty of promise as a rookie, however, posting records of 10-0 in singles and 8-0 in doubles. After advancing to No. 6 on the singles ladder as a sophomore, he told Northam he wanted to play No. 1 as a junior.
"Conor spent that summer living with his uncle in San Diego, working daily with a well-known coach and playing a lot of tournaments," Northam recalls.
"He was already a good player, but he improved so much that summer before his junior year. He added a lot of weapons to his game."
Not only did Holton-Burke become Whitman's best player as a junior, he emerged as the best player in the NWC, going 9-0 at No. 1 singles against the best players in the conference. He also posted a 9-1 NWC record at No. 1 doubles en route to winning player-of-the-year honors.
This past year, Holton-Burke and Adriel Borshansky -- the only other senior on the roster -- led Whitman its fifth straight conference crown, sixth consecutive undefeated NWC season, and highest national ranking (No. 8) in more than two decades.
"Conor and Adriel have won a ton of matches for us, but more importantly, they were great guys to have around," Northam said. "You don't replace guys like that."
Holton-Burke, a two-time Intercollegiate tennis Association All-American, made the All-NWC First Team in each of his last two years.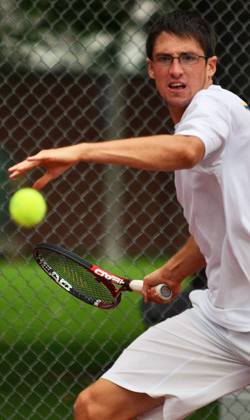 Holton-Burke
He also collected more than 120 career victories in singles and doubles, and he capped his time at Whitman by winning the 2012 Borleske Trophy, which is given annually to the top male athlete in recognition of athletic accomplishment, leadership and sportsmanship, and contributions to the campus as a whole.
In the classroom, Holton-Burke majored in biochemistry, biophysics and molecular biology, graduating with honors. He also completed a minor in mathematics and finished his four years with a near perfect 3.97 grade point average. That was highest cumulative GPA among all of Whitman's varsity athletes.
Holton-Burke was the only member of his Whitman graduating class who was elected as a junior to Phi Beta Kappa, the highly selective national academic honor society.
He based his senior thesis on work he did last summer in the laboratory of Dr. Xuedong Liu at the University of Colorado-Boulder, where his research focused on development of small-molecule cancer-fighting drugs aimed at preventing degradation of tumor-suppressing proteins.
While concentrating on science classes, Holton-Burke excelled in other academic disciplines as well. In taking an upper-level German philosophy class last fall, he joined a German-speaking group that met once a week to read class materials in the original German.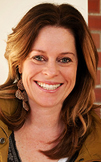 Ireland
Julia Ireland, an assistant professor of philosophy, taught the class and says Holton-Burke was "one of my best students and an active participate in the German language component of the course.
"What distinguished Conor in my classes was his willingness to take strong positions, his ability to thoughtfully back up those positions, and then his capacity to expand on his position or revise what he thought."
Ireland, who had Holton-Burke as a student in her Antiquity and Modernity (CORE) class during his freshman year, was "delighted and impressed" when he decided to take the upper-level philosophy class, despite having not taken any previous philosophy courses.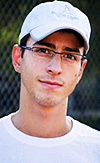 Atanasov
Holton-Burke is spending part of this summer in Haskova, Bulgaria, staying with teammate Nasko Atanasov and his family.
While in Bulgaria, in addition to shadowing a physician at a hospital and volunteering at a school, he also hopes to play in one or more International Tennis Federation professional tournaments (Futures circuit) in Turkey.
He plans to spend next year in Walla Walla, assisting a member of the Whitman physics faculty with his research while also applying for medical school and Ph.D. programs.
- 30 -
CONTACT: Dave Holden
Sports Information Director
Whitman College, Walla Walla, Wash.
509 527-5902; holden@whitman.edu