Thoughts on becoming a terroirist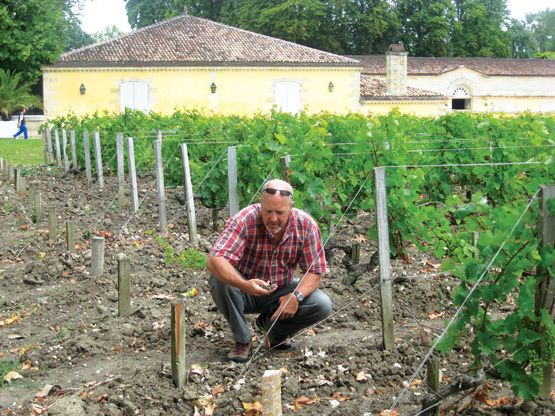 One of the vineyards of the famous Chateau Margaux in the Bordeaux region of France. Photos courtesy of Kevin Pogue
By Kevin Pogue, professor of geology
I'm sitting at my kitchen table looking across a sea of wine bottles from many of Washington's top producers. Seated opposite me is David Schildknecht, a writer and critic for The Wine Advocate. Periodically, he poses questions such as: "was this from the deep silt-loam vineyard?" or "is this from that vineyard with the cobblestones?"
When I began my career as an academic geologist more than 25 years ago, I would never have imagined that my research would lead me to be face to face with one of the world's most esteemed wine critics. When I started teaching at Whitman in 1990, my research was focused on the structural geology and stratigraphy of the Himalayan foothills of northern Pakistan. From both a geologic and cultural standpoint, it's hard to imagine a more fascinating area to conduct field-based studies. During my early visits to Pakistan, the Soviet Union had troops in Afghanistan. Peshawar, the city where I was based, was a nest of spies and mercenaries. At one point, my Pakistani colleagues insisted that I cease all contact with a friendly American I had met at my hotel since, according to them, he was widely thought to be an undercover CIA operative. I had found it interesting that he was treated as an honored guest when he took me for an impromptu visit to the headquarters of one of the factions of the Afghan mujahideen.
Brian Pidduck '97 and Pogue are accompanied by an armed escort in a tribal area near the Indus River gorge in Pakistan.
In the spring of 1998, I was accompanied by Whitman students Heather Wright '99 and Nick Hinz '98 on what was to be my last visit to Pakistan. In the company of an armed escort, we collected samples from tribal areas along the Afghan frontier and had many memorable experiences, including afternoon tea on the Khyber Pass with the commander of the Khyber Rifles. Unfortunately, my Pakistan-based research ended when it was rendered far too risky by the political upheavals and conflicts sparked by the tragic events of Sept. 11, 2001.
At about this same time, the growth of Washington's wine industry was accelerating, and I found that I was frequently interacting with the folks who were moving to Walla Walla to plant vineyards and make wine. I began to receive requests for information on our local bedrock type, soils and climate, and the word "terroir" kept coming up in the resulting discussions. I soon learned that terroir is a French word that refers to the characteristics of a vineyard site that impart a unique sense of place to wine. A search for more information on the topic quickly led me to a book simply titled "Terroir," authored by retired petroleum geologist James Wilson, that emphasizes the influence of geology in the major wine-growing regions of France.
In France and the rest of Europe, many hundreds of years of trial and error have allowed wine grapes to be matched with terroirs that encourage the best expressions of their varietal characteristics, like Pinot Noir and Chardonnay in Burgundy and Riesling in the Mosel Valley. However, I realized that in our own viticultural region, the Columbia Basin, the search for the best terroirs was in its infancy and that scientific research could dramatically shortcut the trial-and-error approach. Existing Earth science databases on geology, soils and climate could be utilized to drastically restrict the areas under consideration for vineyards, and there were unlimited opportunities for new research that could generate information that would be a valuable resource to guide the expansion of Columbia Basin vineyards.
Recognizing that an ideal terroir laboratory was just a short distance from the Whitman campus, I made the decision to pursue research in terroir beginning in the summer of 2006. For my first project, student Greg Dering '07 and I examined the interaction between landscape and air temperatures in the Walla Walla Valley. The following summer I teamed up with Bryn Mawr professor and Whitman geology alumnus Chris Oze '97 to direct six students in a Keck Geology Consortium summer research project that focused on Walla Walla Valley terroir. My terroir-related research was in full swing by the 2009 Annual Meeting of the Geological Society of America in Portland. The theme of the meeting that year was "From Volcanoes to Vineyards," and it provided perfect opportunities for me to co-chair a terroir-themed session of talks and lead a field trip through the viticultural regions of the Columbia Basin. Since 2009, my research has expanded into viticultural regions throughout the Northwest, and I presently maintain a network of more than 100 temperature monitors.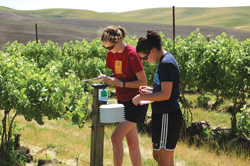 Liesl Olson '11 (left) and Erica Pitcavage '11 (right) help set up temperature monitors in vineyards in the summer of 2010.
My most recent research, with students Erica Pitcavage '11 and Liesl Olson '11, has focused on variations in soil chemistry between the Columbia Basin's federally recognized American Viticultural Areas and the geomorphic controls on temperature variations in Washington's premier vineyards. Over the past several years, I have also provided lectures and led field trips for the Washington State Wine Commission, the Washington Association of Wine Grape Growers, and the Enology and Viticulture programs at Washington State University and Walla Walla Community College. Next spring, I'll be teaching my Terroir class at Whitman, which examines the concept from many different viewpoints, for the fourth time.
My relationship with wine critic David Schildknecht was initiated by a phone call in December of 2011. He had just accepted the assignment to be the regular reviewer of the wines of Oregon and Washington for The Wine Advocate, the publication of über-critic Robert Parker. David called to tell me that he wanted to get a sense of the terroir of the different wine growing regions of the Columbia Basin before he began conducting formal reviews of the wines. He said that his contacts in the wine industry had suggested that a field trip in my company would be the best way to get quickly up to speed on the local terroir. I enthusiastically agreed to David's proposal for a two-day field trip, because I was aware that David's opinions would have a substantial influence on the Washington Wine industry.
The first day of our trip, in mid-March of this year, was spent touring the top vineyards of the Wahluke Slope and Yakima Valley. David was the perfect field trip student, constantly taking notes while asking me to elaborate on the geologic history or the soil types that were unique to each vineyard. We spent most of the second day in the Walla Walla Valley, and ended the day at my home, tasting through a selection of wines that were chosen to highlight individual terroirs. It was interesting to watch David at work, as he logged his impressions of each wine using a small tape recorder. As he worked, I could only hope that in addition to the nuances imparted by French oak barrels or extended maceration, he could also now recognize the influence of the basalt lava flows, cataclysmic ice-age floods and blinding dust storms that are the foundation of Columbia Basin terroir.