In Their Words
Scholarly perspectives from the classroom and beyond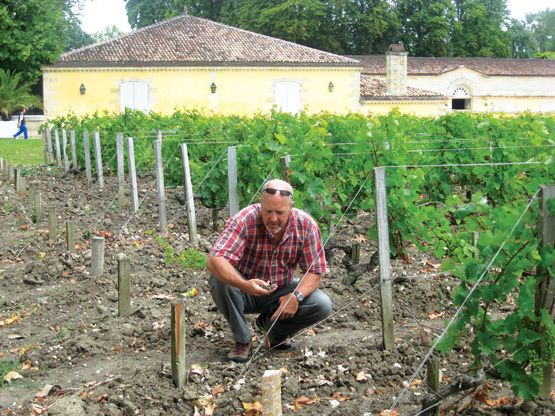 One of the vineyards of the famous Chateau Margaux in the Bordeaux region of France. Photos courtesy of Kevin Pogue
By Kevin Pogue, professor of geology
I'm sitting at my kitchen table looking across a sea of wine bottles from many of Washington's top producers. Seated opposite me is David Schildknecht, a writer and critic for The Wine Advocate. Periodically, he poses questions such as: "was this from the deep silt-loam vineyard?" or "is this from that vineyard with the cobblestones?"
When I began my career as an academic geologist more than 25 years ago, I would never have imagined that my research would lead me to be face to face with one of the world's most esteemed wine critics. When I started teaching at Whitman in 1990, my research was focused on the structural geology and stratigraphy of the Himalayan foothills of northern Pakistan. From both a geologic and cultural standpoint, it's hard to imagine a more fascinating area to conduct field-based studies. During my early visits to Pakistan, the Soviet Union had troops in Afghanistan. Peshawar, the city where I was based, was a nest of spies and mercenaries. At one point, my Pakistani colleagues insisted that I cease all contact with a friendly American I had met at my hotel since, according to them, he was widely thought to be an undercover CIA operative. I had found it interesting that he was treated as an honored guest when he took me for an impromptu visit to the headquarters of one of the factions of the Afghan mujahideen.
Previously...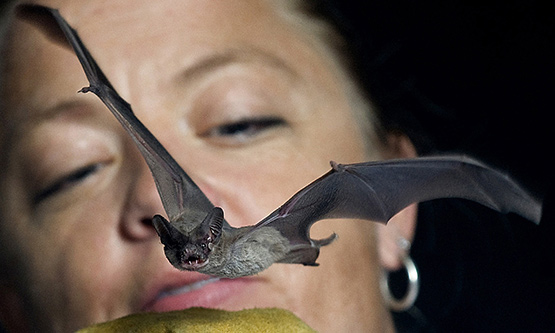 A Brazilian free-tailed bat flies in front of Kirsten Bohn. The largest colony in the U.S. lies in Austin, Texas, and it is composed of members of this species of bat, whose males are known for their ultrasonic songs.
Bats form clans, raise their young together, sing songs and – yes – fight amongst themselves, just like us.
by Kirsten Bohn, visiting assistant professor of biology
When people ask what I do, and I say I study behavior and communication in bats, the response is invariably, "BATS!!! Why bats?" Whether the tone is of horror or wonder, there is always a hint that it is the oddest, most obscure thing they've ever heard. But, bats are neither rare nor obscure. With more than 1,000 species, one-quarter of all mammals are bats. Bats are found everywhere except Antarctica and eat almost everything imaginable – insects, small animals, blood, nectar or fruit. So why do we have the impression that bats are so rare? They are nocturnal, hide during the day, and to navigate they use sonar that we cannot hear. Because bats are rarely seen or heard and difficult to study, their lives have been a secret. Read more…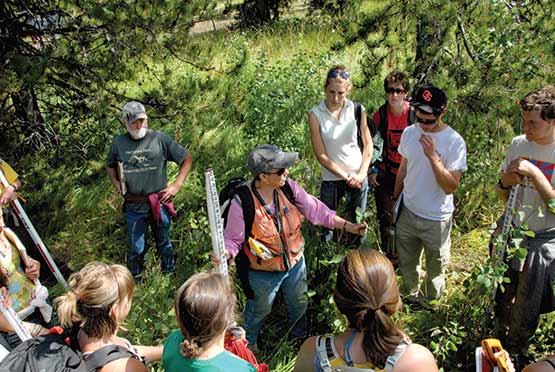 Suzanne Fouty, a hydrologist with the U.S. Forest Service, in orange vest, talks to 2010 Semester in the West students at a young aspen stand in the Wallowa-Whitman National Forest. Behind Fouty to the left is wolf activist Wally Sykes.
By Phil Brick, Miles C. Moore Professor of Politics, Director of Environmental Studies
Deep in the night and somewhere below our 2010 Semester in the West camp near Salt Creek Summit in northeastern Oregon, wolves gather and howl. As I lie alone in the open, I can tell the pack is still quite far away, but it's no less unsettling considering I have 21 students in my care. The howls grow louder, nearer, then only silence and darkness. Such situations call for decisive action.
I pull my sleeping bag over my head and go back to sleep.
The gray wolf, however, won't be so easily ignored. Since their reintroduction in 1995 to central Idaho and Yellowstone National Park, wolves have spread out like spokes on a wagon wheel, one animal arriving in northeastern Oregon as early as 1999. Northeastern Oregon now boasts two breeding colonies, the Wenaha and Imnaha packs, and offshoots from these packs have been documented in the Mill Creek watershed, the source of Walla Walla's drinking water. The wolves are back, a remarkable and rare endangered species recovery story. But with this success has come a politics of resentment not seen since the highly polarized spotted owl/ancient forest controversy of the 1990s. More…
by Mare Blocker, Visiting Assistant Professor of Art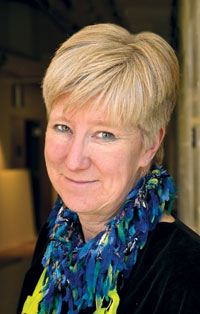 Mare Blocker
For the artist, work is an event of confession, an act of avowal. The tools and forms we use reveal our values and beliefs. I am a storyteller. I am an object maker. I am an avid reader who loves the haptic experience of the physical book, the printed page and the smell of ink on paper. I believe in the power of the printed word and the democracy of the multiple.
I began my career as a book artist in 1979, when I was a student at the University of Washington. I was working toward multiple degrees in creative writing (English), textiles (home economics) and ceramic sculpture (art). At that time, bookbinding was required for the textile degree. It was during this course that I made my first trip to the Special Collections Library. Going to that library changed the pathway of my life. I realized that one form, this form, could encompass my interdisciplinary passions. This was my epiphany, and I have been a book artist since. More…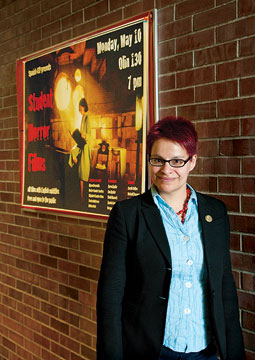 A poster outside Nohemy Solórzano-Thompson's Olin Hall office advertises films students created for one of her classes.
by Nohemy Solórzano-Thompson, associate professor of Spanish
In spring 2010, I taught a new upper-level seminar focusing on Spanish horror literature and film. The first day of class many students expressed hesitancy toward studying the material, because they were not horror fans. By the end of the semester, however, most had gained an understanding of why horror is important in telling us about contemporary Spain and its history.
We began studying texts from the Middle Ages and Renaissance in order to contextualize how horror has traditionally been portrayed in Spanish literature and culture. The students found these texts fascinating as they provided a rich commentary on Spain's long history of ethnic and religious conflict. To call these texts simply anti-Semitic or anti-Muslim would be to simplify more than 1,000 years of Spanish history into two labels that miss the multifaceted realities of the Iberian Peninsula. But, by reading these texts as foundational and in direct conversation with contemporary horror literature and film, we were able to trace a complex and often contradictory legacy about Spain and its peoples. More...
by Patrick Spencer, professor of geology
I grew up in California, in a home only a few miles from the main trace of the San Andreas fault. I remember in my youth sneaking in to the Crystal Springs Reservoir to fish. It was illegal, but we were young, and the fish were huge. At the time it did not occur to me why the reservoir was shaped the way it is; the folly of locating a domestic water supply in a valley that owes its existence to a major tear in Earth's brittle crust was completely lost on me.
Earth speaks to us through earthquakes. They are Earth's way of relieving the stress built up as crustal plates shift and drift. When I was young, earthquakes were a novelty and something to be wondered at, but I had little understanding of their causes and consequences. Earth speaks to me more clearly now. More…
by Scott Elliott, Assistant Professor of English
In the early 1990s, when he was in his 80s, my grandfather Barney Elliott recorded a series of reminiscences of events from his life into the microphone of a "jambox" my family gave him one Christmas. The proprietor of a hamburger stand and later a restaurant in Owensboro, Ky., Barney was a natural storyteller and a colorful character who often brought interesting misfits home from the restaurant to stay with him, his wife, Wilma, and their five children.
One time their guest was a man attempting to push a wheelbarrow around the world; another time, a peripatetic preacher with a prosthetic leg; on another occasion a blind piano player who taught my Uncle Bud to play the blues. More...
by David Glenn, professor of music
In August 2008 Tim Christie, the executive director of the Walla Walla Chamber Music Festival, asked if I would accept a commission. The guidelines were to compose a 10-12 minute piece for the opening concert of the festival in June 2009. The piece could either be for piano quintet (piano and string quartet) or clarinet quintet (clarinet and string quartet), and Tim wanted the piece to have something to do with either Walla Walla or Whitman College. I decided to write for piano quintet and went to work figuring out what my Walla Walla/Whitman theme would be. More...
by David F. Schmitz, Robert Allen Skotheim Chair of History
Financial crises were a common feature in the United States from the beginning of industrialization until the Great Depression, but nothing comparable has occurred in the past 79 years. Starting with the Panic of 1837 down to the Stock Market Crash of 1929, there were at least seven major financial crises that led to severe economic downturns and depressions. What the nation has faced since the summer of 2008 is a financial crisis, not a more common market correction or recession.
Why so many financial crises? More...
In Their Words asked faculty to offer advice to President Obama as he begins his first term of office. In these pages, three Whitman professors offer insight into the challenges he faces as well as potential solutions for the environment, education and health care. More...
by U.J. Sofia, William K. and Diana R. Deshler Chair and Professor of Astronomy
Most people have never heard of it and very few have ever thought about it, yet everyone owes their existence partially to it. Without it, the Sun could not have formed, planets would not exist, and the basic molecules of life could not have developed. What is this amazing substance? It's interstellar dust.
Don't be turned off by its lowly moniker. This is not the same stuff that lurks under your bed forming bunnies; it's a whole different animal. But 78 years after its discovery by Robert J. Trumpler, we're still learning about this material that is so important to the formation of life, and to the structure of the Universe and the field of astronomy. More...
by Roberta Davidson, Professor of English
I have taught Shakespeare for more than 20 years, and, like all teachers, I learn from my students as I teach them. But no group of students ever taught me more about Shakespeare's plays or about myself than the class I taught at the maximum security Washington State Penitentiary in Walla Walla. To this day, the impact of that experience on my teaching extends into my Whitman classroom. More...
by Barry Balof, Associate Professor of Mathematics
When faced with an election, are we better off choosing a candidate who will raise taxes to implement more governmental programs? Will our individual votes match what we feel is best for the community? On an international scale, what roles do calculation and psychology play in our economic and military decisions with regard to other nations? How should an overcommitted student, as so many of them are these days, decide to allot his or her precious time? More...