Freedom of the Press
by Mare Blocker, Visiting Assistant Professor of Art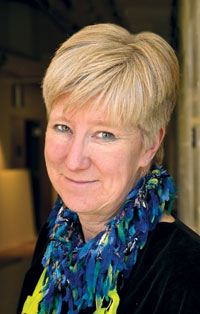 Mare Blocker
For the artist, work is an event of confession, an act of avowal. The tools and forms we use reveal our values and beliefs. I am a storyteller. I am an object maker. I am an avid reader who loves the haptic experience of the physical book, the printed page and the smell of ink on paper. I believe in the power of the printed word and the democracy of the multiple.
I began my career as a book artist in 1979, when I was a student at the University of Washington. I was working toward multiple degrees in creative writing (English), textiles (home economics) and ceramic sculpture (art). At that time, bookbinding was required for the textile degree. It was during this course that I made my first trip to the Special Collections Library. Going to that library changed the pathway of my life. I realized that one form, this form, could encompass my interdisciplinary passions. This was my epiphany, and I have been a book artist since.
When I say I'm a book artist, people frequently assume I illustrate books, specifically children's books. I print, bind and illustrate books using the same basic technology as Gutenberg and the Diamond Sutra printers. Johannes Gutenberg, 1398-1468, was the first European to use moveable type and is known to the western world as the inventor of the printing press. Although not the oldest example of a printed page, the Diamond Sutra is currently the world's earliest example of a dated printed book, May 11, 868. The technology we use today in the letterpress and printmaking labs has endured for at least 1143 years. Letterpress is a form of relief printing, which makes an impression on the page, allowing for crisp letterforms and a tactile experience. Each letter is a separate piece of lead or wood. It is a slow, meticulous process, allowing for contemplation. This style of printing mimics that act of reading poetry for me. Each word has its own weight, its own importance. Setting type in lead demands a personal investment, or relationship, with the words.
I bought my first printing press and type in 1984 from a press junk man. My Vandercook 219, built in 1954, was used by The Seattle Post-Intelligencer as a newspaper proof press until the early 1980s. Lead type was set for the newspaper pages each day, and single sheets were printed and proof-read on these hand-fed presses before being moved to the bigger automated power presses for mass production. As the printing industry shifted from letterpress to offset technology, the proof presses became obsolete. Obsolete technologies tend to be cheap or free, and many presses found their way into the hands of artists. As one industrial technology died, the equipment was repurposed in art studios and the movement to preserve the craft of letterpress printing and hand bookbinding was reborn.
The current "Letterpress Revival" was born from the shift of printing technologies, the rise in popularity of personal computers and photopolymer advancements. Artists were drawn to letterpress and the book arts not only because of press accessibility and the urge to preserve a dying craft form; they were driven by a need to tell their stories and spread a message.
The book is a sneaky art form. As literate readers, we easily recognize the form and feel a comfortable familiarity with it. Books slow us down and open us up as we progress through them. They give the viewer time to immerse and reflect, they invite touch and smell. The artist tells a story, either visually or with a more traditional text-based narrative, and takes advantage of this reflective, interactive space, controlling time and pacing for their "reader."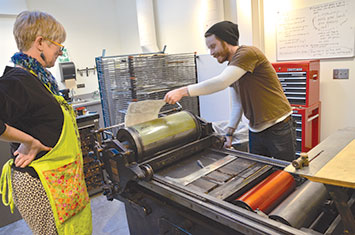 "When everyone is working, and the presses are running, there is a feeling of community that is magical," said Mare Blocker, working here with Noah Greene '11.
The Whitman Book Arts Press trajectory is much like my own. The college's press was founded by equipment donations, and includes three proofing presses, several sizes of clamshell presses, cases of ornaments and wood type, and literally tons of lead type. It is used by the book arts and printmaking classes in the production of broadsides, postcards, ephemera and small press books. Students are encouraged to publish their own writing, to take authorship for the projects they print and to start their own press. Interdisciplinary collaborations are promoted. Art, English and environmental humanities majors are currently sharing space, presses and ideas as they work on their senior projects.
The intermediate and advanced book arts students and I have been producing broadsides for the Visiting Writers Reading Series (VWRS) for the past year. Broadsides have their roots in the mid-1600s and continued to be popular until the early 20th century. Smaller than a poster, broadsides were usually illustrated and designed to be highly legible and easily accessible to a diverse group of people, regardless of education or class. A majority of early broadsides disseminated calls for social or political change. Others published song lyrics and poetry. Perhaps the most famous American broadside is the Declaration of Independence.
Our VWRS broadside project pairs an emerging artist with an established writer. The students design and print an edition of 125, and in the spirit of the Diamond Sutra — which enjoyed "universal free distribution" — we give the broadsides to those who attend the readings. It is an empowering experience to give your work away and build community through art. The English department has framed the broadsides, which are on view in Olin Hall, and complete sets have been donated to Penrose Library, the University of Washington and Multnomah County Library Special Collections. We invite you to visit them.

I returned to teaching in 2003, after a decade of working as a studio artist, alone with my presses. Teaching affords me the opportunity to print with my students, while teaching them to print. Our exchanges have informed my work and added another layer to my interdisciplinary practice. I like to think of the lab as a contemporary medieval workshop. When everyone is working and the presses are running, there is a feeling of community that is magical. Nothing can prepare you for that first proof, that alchemical moment of turning lead into words on a finely printed page. I feel honored to be able to pass this tradition on.
About the author: Mare Blocker is a visiting assistant professor of art. She earned a bachelor of fine arts degree at the University of Washington and a master of fine arts at the University of Idaho. She joined the Whitman faculty for the 2003-04 year, returning in 2006. She is a "presstidigitator" for The MKimberly Press and president of the Book Arts Guild, a regional organization serving book artists and enthusiasts since 1979. Learn more about the Whitman Book Arts Press here.