Dana Leighton '01 – The Injustice of Threat: How Perceived Threat Shrinks Our Scope of Justice
Date: October 28, 2013 Time: 4:00 p.m. Location: Kimball Theatre, Hunter Conservatory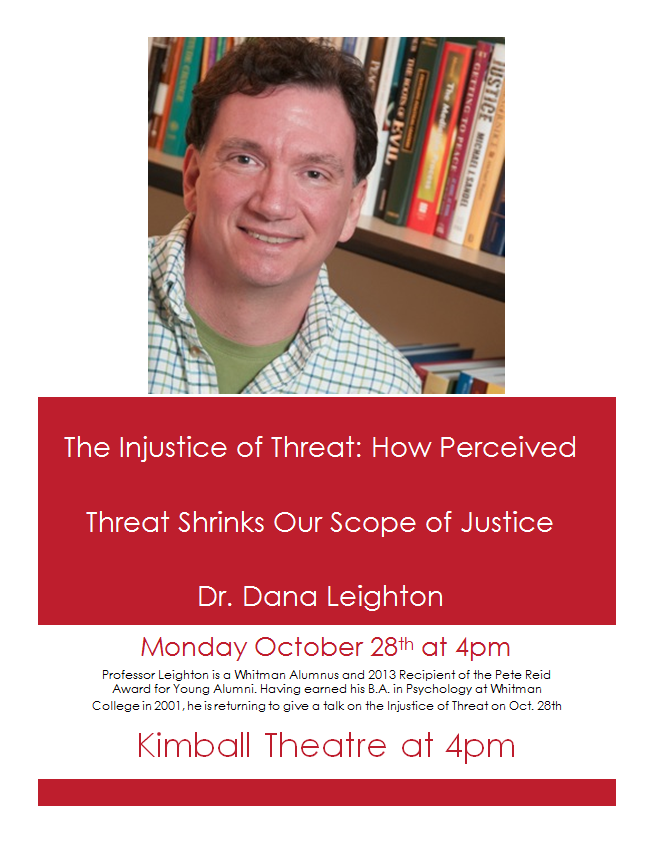 Dana Leighton '01, Visiting Assistant Professor of Psychology at Hendrix College and the Whitman College 2013 Pete Reid Young Alumni Award Recipient, will visit Whitman on Oct. 28 to give a talk about his research into justice and perceived threat.
We all maintain a scope of justice: a psychological boundary between those whom we treat with fairness and justice and those whom we do not. This boundary is malleable, affected by situational factors including how threatening we perceive others to be. Perceived threats have the power to contract the scope of justice, resulting in an outcome referred to as moral exclusion, whereby others are denied consideration of fairness, access to resources, and denial of self-sacrifice for their welfare. Leighton's recent research concerns the influence of two important sources of perceived threat: symbolic (threats to cultural values), and realistic (threats to well-being) on moral exclusion from the scope of justice. Leighton will present an overview of moral exclusion and the scope of justice and results from his recent research showing the power of symbolic and realistic threats to cause moral exclusion. Leighton will also talk about his experiences while at Whitman College that gave rise to these interests and to his continuing involvement with Whitman's Annual Fund.

After completing his degree in psychology, Leighton earned his master's in social psychology at the University of British Columbia and his Ph.D. in experimental psychology at the University of Arkansas.
This program is sponsored by the Student Engagement Center and the Office of Alumni Relations.