GiveBIG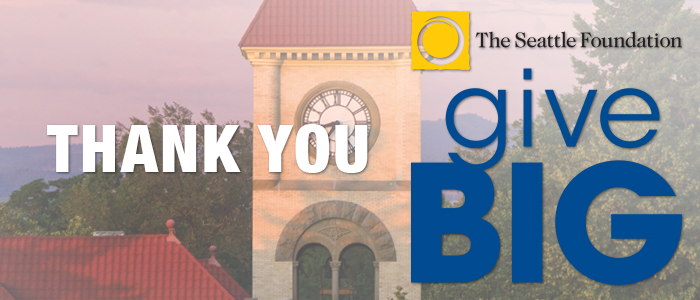 One-day, fundraising event will s t r e t c h dollars given to Whitman

What is GiveBIG?
Whitman College has been selected to participate in a one-day, online charitable event organized byThe Seattle Foundation. Called GiveBIG, the fundraising effort is designed to inspire people to give generously to nonprofit organizations such as Whitman that contribute in positive ways to our region.
GiveBIG takes place Wednesday, May 15, starting at 12 a.m. and ending at 11:59 p.m. (Pacific Daylight Time).
The Seattle Foundation will stretch the value of each dollar given by adding to it. The more money donated the bigger the stretch. All gifts must be made by credit card via the GiveBIG online giving form .
All gifts to Whitman through GiveBIG benefit the Annual Fund as unrestricted contributions. Alumni making gifts
through GiveBIG will be credited for having made a gift
counting toward their class participation rate.
To make a gift to the Whitman College Annual Fund through the GiveBIG program:
Enter GiveBIG on your calendar for May 15.
On May 15,
Visit the Whitman College page on The Seattle Foundation website
Click the red DONATE NOW
Make a gift of any size.
Questions?
"GiveBIG is a high-energy, social media-based effort that gives us new opportunities to reach out to our donor base and offer them the advantage of stretching their giving," said Brian Dohe, Whitman's director of annual giving. "We are thrilled to be recognized by The Seattle Foundation, which this year reached beyond its county boarders to include Eastern Washington."
In the 2012 GiveBIG effort, 22,000 individual donors made 37,800 gifts resulting in a total of $7.43 million that went to donors' nonprofits of choice. Each donation last year was "stretched" by 10 percent; the average gift was $200.
The more dollars given to Whitman through this program the greater the stretch amount. The full amount of gifts, PLUS the stretch amount, goes directly to Whitman College. Gifts are fully tax-deductible.
In addition to gifts amounts being stretched, there is another advantage of participating in GiveBIG – a chance for donors to WIN BIG on behalf of their organization of choice. There will be a random drawing of donors for a bonus to be awarded to the donor's chosen non-profit that includes an additional $1,000 and a pair of round-trip tickets, courtesy of Alaska Airlines.
And the lucky donor will receive a $100 gift card, courtesy of GiveBIG lead sponsor Starbucks.