MLK Day activities focus on community, Glover Alston Center opening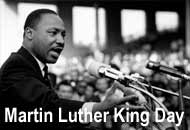 Martin Luther King Jr. Day (Monday, Jan. 18) takes on a special historic significance for Whitman College this year with the official opening of the Glover Alston Center, a new space on campus designed for students with diverse backgrounds and interests to explore, reflect, discuss and engage. The traditional MLK Day candlelight peace march from campus to downtown Walla Walla and back, will conclude with an open house at the center, a renovated historic home at 26 Boyer Ave. President Bridges will greet guests at the event, which will feature refreshments and music by Whitman's talented student jazz musicians. Here is the event schedule:
1:30-1:45 p.m. — Assemble at Reid Campus Center to join community service projects (2-4 p.m.) coordinated by the Community Service office. For a description of this year's projects and to sign up to volunteer, click here or call x5765 for details.
3:30-4:30 p.m. – Volunteer Fair. Reid Campus Center, Young Ballroom.
4:30-5:30 p.m. – Professors explore the Civil Rights Movement, how it informed and impacted various groups of people then, and its relevance to today's social justice movements. Participants include Bob Withycombe, professor of rhetoric and film studies; Nina Lerman, associate professor of history; Gilbert Mireles, assistant professor of sociology; and Jennifer McGovern, visiting Johnston Professor of English.
5:45 p.m. – The traditional candlelight peace march assembles at Reid Campus Center and proceeds to downtown Walla Walla, returning to campus at 6:30 p.m.
6:30 p.m. – Glover Alston Center Open House. 26 Boyer Ave. The post-march open house will include live music and refreshments, followed by a screening of the documentary "At the River I Stand," hosted by the Black Student Union.
Also, be sure to tune in to KUJ Radio on Thursday, Jan. 14, at 7:30 a.m. Mukulu Mweu, associate dean of students, intercultural programs and services, and a student, will be interviewed about the MLK events and the Glover Alston Center by talk show host Jim Bock.
---
Penrose House next stop on PAC tour series
The world of admission – from its home base in historic Penrose House – is the topic of the next Personnel Advisory Committee (PAC) tour, which takes place Tuesday, Jan. 19, from noon-1 p.m. Tony Cabasco, dean of admission and financial aid, will lead a tour of the building and discuss the recruitment and financial aid award process. If you'd like to attend, please RSVP by e-mail to Mary Luckstead. Meet at Penrose House (corner of Boyer and Stanton) just before noon.
---
Faculty Accomplishments
Helen Kim, assistant professor of sociology, and her husband, Noah Leavitt, adjunct assistant professor of sociology and general studies, presented their research on Asian-Jewish couples at the recent annual meeting of the Association for Jewish Studies (AJS), which took place in Los Angeles. The AJS is a learned society and professional organization that seeks to promote, maintain, and improve teaching and research in Jewish Studies at colleges, universities, and other institutions of higher learning. Read about their research here.
---
2010 Mariners Caravan to visit campus Jan. 13

The 2010 Seattle Mariners Caravan hits Walla Walla on Wednesday, Jan. 13, in the Sherwood Athletic Center from 4:30 to 6 p.m. Pitcher Doug Fister, first baseman Mike Carp, broadcaster Dave Sims and the Mariner Moose are scheduled to participate. Learn more about the caravan here.
---
Tennis anyone?
The women's tennis program is hosting a One-Day Campus Showdown on Saturday, Jan. 23, in the Bratton Tennis Center. It's a women's tournament that will include singles and doubles brackets and is open to juniors (high school players), collegians and adults. The Whitman event is one of many such tournaments being held around the country as part of the U.S. Tennis Association program to bring more young players onto college campuses and forge stronger ties between college programs and local communities. The showdown starts at 9 a.m. with the singles bracket. Doubles will follow. Because of time constraints, each match will be limited to one five-game set (tie-break at 5-5). The entry fee is $10 for singles and $5 per player for doubles. Whitman women's tennis coach John Hein is the contact for entries. Contact him at x5262 or e-mail heinj@whitman.edu. Photo by Asiya Khaki.
---
Coming Events
All free unless otherwise noted
Wednesday, 1/13
Mariners Caravan: Sherwood Athletic Center, 4:30-6 p.m.
1/14 through 1/18
Special Event: Shelter for Freedom, a series of fundraising and awareness events to be held at Whitman and Walla Walla University in support of the Walla Walla Helpline Women's Shelter and to fight against human trafficking. Click here for a complete schedule of events.
Monday, 1/18
Martin Luther King Jr. Day events: See schedule in this edition of The Fountain or online.
1/19 through 2/19
Art: The Sheehan Gallery presents "Critical Junctures: The Sculpture and Installations of Eileen Doktorski." Opening reception is Friday, Jan. 22, at 5 p.m.; the artist will speak at 5:30 p.m., Olin 130.
Wednesday, 1/27
Lecture: Zahi Zalloua, associate professor of foreign languages and literatures (French), delivers the G. Thomas Edwards Lecture, "Fidelity to the Unruly, or Reading Literature Ethically." Prof. Zalloua's talk discusses recent trends in ethical criticism, exploring alternative ways of conceptualizing the relation between ethics and literature. 7:30 p.m., Kimball Theatre, Hunter Conservatory.
Click here for events posted on the Whitman Web site.
Send event info to communications staff
Are you coordinating any public campus events for the spring semester? Are they posted on the Events Web site yet? If they're not, please submit information by e-mail to wardwers@whitman.edu. And please be sure to include whether or not you will be purchasing paid advertising and/or needing a poster for your event, so we can prepare for that. If your event is posted but is missing information or isn't accurate, please submit corrections and additions. Questions? Call or e-mail Ruth Wardwell, director of communications, x5768.
---
Athletic Events – Home Games
Women's Basketball (Sherwood Athletic Center, George Ball Court)
Saturday, Jan. 23 – 6 p.m. vs. Linfield College
Friday, Jan. 29 – 6 p.m. vs. Lewis and Clark College
Saturday, Jan. 30 – 6 p.m. vs. Willamette University
Men's Basketball (Sherwood Athletic Center, George Ball Court)
Saturday, Jan. 23 – 8 p.m. vs. Linfield College
Friday, Jan. 29 – 8 p.m. vs. Lewis and Clark College
Saturday, Jan. 30 – 8 p.m. vs. Willamette University
Swimming (Harvey Pool)
Saturday, Jan. 23 – 3 p.m. vs. Whitworth
Friday, Jan. 29 – 6 p.m. vs. Puget Sound
---
Parting Shot
By Greg Lehman, photographer/communications officer
It's summer somewhere! Doing volunteer work building a playground at a Jamaican orphanage was a terrific reminder to me that there is a big world of need out there. But it wasn't all sweat and broken hearts. Our group from Walla Walla had one wonderful afternoon on a donated private beach with a couple dozen of the children who very rarely get beyond the orphanage walls. Thank you to those of you who bid on my photos in Reid Campus Center in November and helped make a difference! See full size panorama.
---
---
The Fountain is published by the Office of Communications. Send news to thefountain@whitman.edu. Photos are accepted. Submissions are due by Tuesday at 5 p.m. for the following week's issue. Director of Communications: Ruth Wardwell. Online: www.whitman.edu/fountain