In This Issue:
Events
Whitman News
Attention 2014 Graduates!
2014 Reunion a Success!
Reunions
Whitties Helping Whitties
WhitMail Project
Trips
Why We Love Whitman
Connect Online:
Alumni Events
Whitman Online
Alumni Starter Kit
Update Your Address
Send a Class Note
Submit to Livewire
Submit to 50-Plus
Whitman Magazine Online
Athletics
Campus Events
Give to Whitman
---

Class Notes submissions are noted in the
Alumni News section
of the Whitman Magazine.
---
Your support for Whitman makes a difference.

---

---

---
---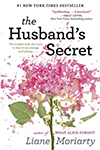 October's selection
The Husband's Secret
by Liane Moriarty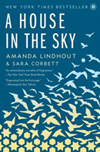 November's selection
A House in the Sky
by Amanda Lindhout


---
Events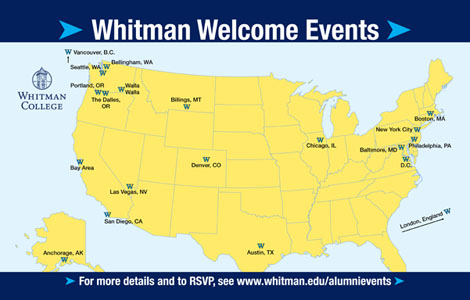 Whitman Welcome Events • Various Cities
Welcome events will be held in cities across the U.S. this fall to reconnect and WELCOME alumni who are new to their communities. This is a great way for Whitties living in these communities to reconnect and meet members of the Class of 2014 and other alumni who are new to their communities. See the calendar of events for a list of cities hosting events.


Geology ROCKS! • Vancouver, British Columbia, Canada

October 20, 2014 • 7:00 p.m. • Hyatt Regency Vancouver, Regency Ballrooms C and D, 3rd level
Read more and RSVP Online



The Problem with Zombies • San Diego, CA

With Associate Professor of Philosophy Rebecca Hanrahan
October 28, 2014 • 7-9:00 p.m. • Home of Cynda Maxon and Ken Richter, parents of Addison Richter '17
Read more and RSVP Online


Color Run • Baltimore, MD

November 15, 2014 • 8:30 a.m. • Meet other Whitties in front of the Baltimore Area Visitors Center, 401 Light Street
Read more and RSVP Online


More Alumni Events
---
Whitman News
Neil deGrasse Tyson speaks
Superstar astrophysicist Neil deGrasse Tyson spoke to an audience of more than a thousand people at Cordiner Hall on September 11, 2014.
Read More

Whitman alumna poised to release new album
Indie-folk musician Hilary Scott '98 has certainly kept busy this year. Poised to release her new album Freight Train Love, she is also the winner of the Rural Roots Music Commission of the National Traditional Country Music Association's American/Folk Album of the Year for her work "Flowers on Mars."
Read More
Whitman College up four spots in "U.S. News" 2015 rankings
According to "U.S. News and World Report's" 2015 college rankings, Whitman College is the 37th best liberal arts college in the country.
Read More
Visit the Newsroom
---
Attention 2014 Graduates!

Did you know the Alumni Office is here to help you stay connected to Whitman and to your classmates? The Alumni Office staff organizes events across the country to give Whitties the opportunity to reconnect. They also provide the online alumni directory, Whitman Online, to help you find your fellow Whitties. To subscribe visit http://www.alumniconnections.com/whitmancollege/ (you will need your Whitman ID and an email address and we'll even send you a gift for registering!)

Did you know we have also prepared a website especially for your class? Visit http://www.whitman.edu/alumni/be-connected/alumni-starter-kit and come learn about all the ways to stay engaged with Whitman after graduation!

Want to receive our emails at an account other than @whitman.edu? Be sure we have your preferred email address by emailing addrchg@whitman.edu.
---
2014 Reunion a Success!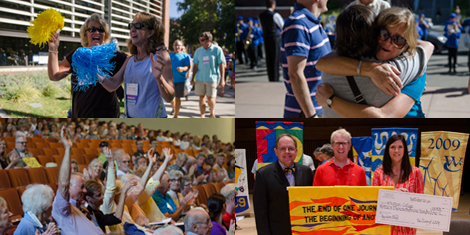 Thanks to all our alumni who came back to campus, making the 2014 Reunion Weekend so successful! If you didn't get the chance to attend, be sure to keep an eye on the Whitman College Facebook page (https://www.facebook.com/whitmancollege) for snapshots of the event.

All-Class Party Photo Booth Photos

Also, check out the sliding photos at the Alumni Home page on the Whitman site (http://www.whitman.edu/alumni) - an ever-changing selection of photos of Whitman past and present. You can see new photos there, as well as the links to the reunion photo galleries, up soon!
---
Reunions

PHI DELTA THETA 100 Year Celebration
Save the dates!
April 24-26, 2015


More information to come.

Class of 1965 Fiftieth Reunion
May 21-24, 2015
Save the dates!
View the schedule of events, accommodation information, RSVP and see who else plans to attend.
To view information about upcoming 2015 reunions go to www.whitman.edu/reunions
---
Spring Break Whitties Helping Whitties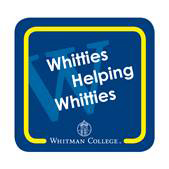 Whitman students are curious about what you do and where you work. Here is your chance to share with them!

NEW this Spring Break!!
Whitties Helping Whitties Job Shadowing
Monday, March 16th thru Friday, March 27th, 2015

Host a student for a half-day, the full day, or a whole week!
If you're interested in participating, we are starting the list now, so please complete the form found here.
More info to come as we see who's interested.

Organized by the Student Engagement Center

---
WhitMail Project

You can make a difference in the life of a senior in just a few minutes with WhitMail!
From now until May 8, 2015, the Alumni Office will be collecting postcards from alumni across the world with words of encouragement for a graduating senior. As the Class of 2015 enters their last round of finals in the spring, we will send each senior a postcard from alumni. It's a simple but powerful way to connect with the next generation of alumni and make a difference for a stressed out senior. Learn how you can participate.
---
Trips

Ski with the President in Sun Valley
Save the dates!
February 19–22, 2015
Watch the Whitman web site for updates—details to come.


Whitman in Ashland
Oregon Shakespeare Festival 2015
Save the dates!
August 7–9, 2015
Watch the Whitman web site for updates—details to come.
---
Why We Love Whitman
Photo by Matt Banderas '04, Whitman communications officer/photographer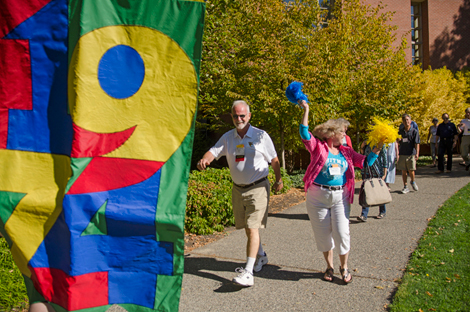 David Niklas '74 and Mary Dimock Niklas '75 enjoy the Alumni Reunion Weekend's Parade of Classes.
---