In This Issue:
Events
Whitman News
Reunions
Attention 2014 Graduates!
Trips
WhitMail Project
Whitties Helping Whitties
Why We Love Whitman
Connect Online:
Alumni Events
Whitman Online
Alumni Starter Kit
Update Your Address
Send a Class Note
Submit to Livewire
Submit to 50-Plus
Whitman Magazine Online
Athletics
Campus Events
Give to Whitman
---

Class Notes submissions are noted in the
Alumni News section
of the Whitman Magazine.
---
Your support for Whitman makes a difference.

---

---

---
---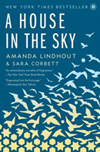 November's selection
A House in the Sky
by Amanda Lindhout




December's selection
A Wrinkle in Time
by Madeleine L'Engle


---
Events
Welcome to Your City! • Denver, CO

November 6, 2014 • 6:00 p.m. • Prost Brewing Company
Read more and RSVP Online



Student-Professor Research Collaboration: The Case of Jordanian Archaeology • Seattle, WA

With Professor of Anthropology Gary Rollefson
November 8, 2014 • 2:30 p.m. • Asian Art Museum, Alvord Boardroom
Read more and RSVP Online


Color Run • Baltimore, MD

November 15, 2014 • 8:30 a.m. • Meet other Whitties in front of the Baltimore Area Visitors Center, 401 Light Street
Read more and RSVP Online


W Club Luncheon • Portland, OR

With Athletic Director Dean Snider and introducing newly-hired Women's Soccer Coach Laura Williamson
November 19, 2014 • 11:30 a.m. • Embassy Suites Portland - Downtown Arcadian Wine Cellar • Cost is $15 per person and seating is limited.
Read more and RSVP Online


SAVE THE DATE • Portland, OR

Professor of Anthropology Gary Rollefson will discuss collaborative research with Whitties in Jordan.
December 6, 2014 • The Architectural Heritage Center


More Alumni Events
---
Whitman News

Instant Play Festival brings student, faculty and staff playwrights together
Two days. Fourteen plays, written by students, put on by students, faculty and staff. It's Whitman's annual Instant Play Festival.
Read More

Whitman brings Visiting Educator Jessica Litwak to campus
For the week of Sept. 15 through Sept. 22, Whitman welcomed drama therapist, playwright, director, actor and Antioch University Ph.D. candidate Jessica Litwak to campus.
Read More
Whitman establishes computer science program with help from Microsoft
In the near future, the number of alumni working in the technology sector is set to increase, thanks to the establishment of Whitman's first tenure-track computer science program.
Read More
Visit the Newsroom
---
Reunions

PHI DELTA THETA 100 Year Celebration
April 24-26, 2015
RSVP online NOW!




Class of 1965 Fiftieth Reunion
May 21-24, 2015
Save the dates!
View the schedule of events, accommodation information, RSVP and see who else plans to attend.
2015 Reunion Weekend, September 24-27
Class of 1950
Class of 1955
Class of 1960
Classes of 1969, 1970, 1971
Class of 1975
Class of 1990
Classes of 1994, 1995, 1996
Class of 2005

Save the dates!
Watch the reunion web site for updates at www.whitman.edu/reunions.
---
Attention 2014 Graduates!

Did you know the Alumni Office is here to help you stay connected to Whitman and to your classmates? The Alumni Office staff organizes events across the country to give Whitties the opportunity to reconnect. They also provide the online alumni directory, Whitman Online, to help you find your fellow Whitties. To subscribe visit http://www.alumniconnections.com/whitmancollege/ (you will need your Whitman ID and an email address and we'll even send you a gift for registering!)

Did you know we have also prepared a website especially for your class? Visit http://www.whitman.edu/alumni/be-connected/alumni-starter-kit and come learn about all the ways to stay engaged with Whitman after graduation!

Want to receive our emails at an account other than @whitman.edu? Be sure we have your preferred email address by emailing addrchg@whitman.edu.
---
Trips

Ski with the President in Sun Valley
February 19–22, 2015
Join President Bridges and Kari Tupper for the last "Ski with the President" outing.
Save the dates! Details will be available soon.


Whitman in Ashland
Oregon Shakespeare Festival 2015
Save the dates! • August 7–9, 2015
Join Theresa diPasquale, Professor of English Language & Literature, and Whitman alumni, parents and friends for a great weekend of play going and discussions.

Antony and Cleopatra, Guys and Dolls, Much Ado About Nothing and more.
Watch the Whitman web site for updates—details to come.
---
WhitMail Project

You can make a difference in the life of a senior in just a few minutes with WhitMail!
From now until May 8, 2015, the Alumni Office will be collecting postcards from alumni across the world with words of encouragement for a graduating senior. As the Class of 2015 enters their last round of finals in the spring, we will send each senior a postcard from alumni. It's a simple but powerful way to connect with the next generation of alumni and make a difference for a stressed out senior. Learn how you can participate.
---
Spring Break Whitties Helping Whitties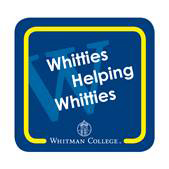 Whitman students are curious about what you do and where you work. Here is your chance to share with them!

NEW this Spring Break!!
Whitties Helping Whitties Job Shadowing
Monday, March 16th thru Friday, March 27th, 2015

Host a student for a half-day, the full day, or a whole week!
If you're interested in participating, we are starting the list now, so please complete the form found here.
More info to come as we see who's interested.

Organized by the Student Engagement Center

---
Why We Love Whitman
Photo by Matt Banderas '04, Whitman communications officer/photographer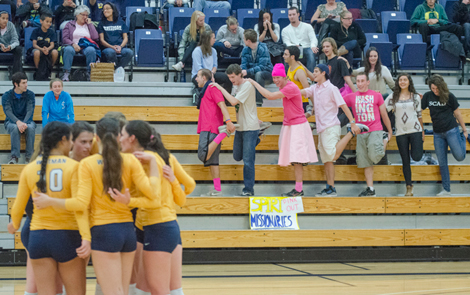 Supporters dressed in pink for National Breast Cancer Awareness Month stretch their limbs before stretching their lungs at a Women's Volleyball game.
---