Alumnus of Merit Award 2012


Alumnus of Merit Award
The Alumnus of Merit Award is the highest honor the Alumni Association bestows on an alumnus of Whitman College. This award is given to alumni who have achieved distinction in their chosen field, or rendered outstanding service to their community, or rendered outstanding service to, and demonstrated loyal interest in, Whitman College. Members of the Board of Trustees, the Board of Overseers, and the Board of Directors of the Alumni Association are eligible three years after their last term has been served.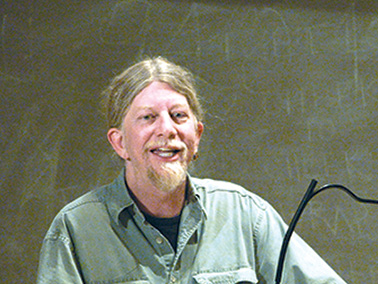 Alumnus of Merit 2012 Recipient

Kris Nyrop '79 received the Alumnus of Merit Award for his work in the field of HIV/AIDS prevention and for his commitment to helping community members at risk of contracting HIV.
Nyrop has dedicated his life to social justice. He serves as program director of the Racial Disparity Project at the Defender Association, Seattle's oldest and largest public defender's office. But he said he happened upon activism by chance.
After graduating from Whitman, Nyrop lived in San Francisco when the first cases of mysterious deaths were reported by the Centers for Disease Control and Prevention in the early 1980s.
"By the time I left San Francisco in 1983 to attend graduate school in Seattle, many, many gay men in San Francisco were dying from previously rare and, in some cases, almost unheard of diseases," he said.
In 1986, Nyrop received his master's in anthropology from the University of Washington. He was teaching an introduction to anthropology course at the university until a bicycle accident rendered him unable to work.
"While hobbling my way down Seattle's Broadway on an August evening, I ran into a friend of mine from the anthropology department," he said.
His friend worked as an ethnographer for the CDC, looking at the link between injection drug use and HIV/AIDS.
"The project he was working on sounded fascinating, and I needed work badly," Nyrop said. "Timing, as they say, is everything."
Within a year, he was working as a research associate for the National Institute on Drug Abuse's National AIDS Demonstration Research Projects, conducting behavioral research to identify effective strategies in preventing the transmission of HIV/AIDS among injection drug users.
"This was applied anthropology at its finest as far as I was concerned," he said.
While Nyrop conducted his research, friends continued to die from HIV/AIDS.
In the early 1990s, Nyrop helped found the Seattle-based nonprofit organization Street Outreach Services, a resource center providing referrals, counseling and day shelter for drug users, sex workers and other populations that have a high risk of contracting HIV. During this time, he served as a unit director at the Washington State Department of Health, and he also worked on the Mom's Project, which was an experimental drug treatment program for pregnant women, and a needle exchange program aimed at combating the spread of HIV/AIDS and hepatitis B and C.
"HIV/AIDS prevention and all the work that followed from it was not a career path that I consciously chose," Nyrop said. "I stumbled into it, and it has always been much more than a career path."
In 2008, Nyrop returned to Whitman as an O'Donnell Visiting Educator, offering two interdisciplinary studies classes on the history of HIV/AIDS.
Nyrop said Whitman's attitude toward HIV/AIDS has evolved along with the times, pointing to the recognition of David Nord '83, who died of AIDS in 1999. Since 1996, the college has given the David Nord Award to students and faculty members whose research addresses critical issues facing the LBGTQ community.
"The college is engaging in the real and difficult and troublesome world. And that's a worthy goal for a small liberal arts college," Nyrop said.