Alumnus of Merit Award 2004
Alumnus of Merit Award
The Alumnus of Merit Award is the highest honor the Alumni Association bestows on an alumnus of Whitman College. This award is given to alumni who have achieved distinction in their chosen field, or rendered outstanding service to their community, or rendered outstanding service to, and demonstrated loyal interest in, Whitman College. Members of the Board of Trustees, the Board of Overseers, and the Board of Directors of the Alumni Association are eligible three years after their last term has been served.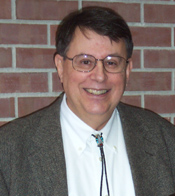 2004 Alumnus of Merit Award Recipient
Craig Lesley '67, the author of four novels is the recipient of the 2004 Whitman College Alumnus of Merit Award. Lesley is known as a gifted writer; his four novels have won numerous awards: Winterkill (1984; Book of the Year honors from the Pacific Northwest Booksellers Association and Western Writers of America), River Song (1989), and The Sky Fisherman (1995; nomination for the Pulitzer Price in fiction, finalist for the Oregon Book Award), all deal with the co-existence between whites and Indians in Oregon during the middle years of the past century. Storm Riders, an autobiographical novel, revolves around the guardianship of a young Indian boy damaged by fetal alcohol syndrome (2000; the Oregon Book Award; Pulitzer nomination).
In addition to his four novels, Lesley has edited two anthologies of short stories, Talking Leaves: Contemporary Native American Short Stories (1991; Pacific Northwest Booksellers Award), and Dreamers and Desperadoes: Contemporary Short Fiction of the American West (1993). Lesley's wife, Kathy Stavrakis, serves as "at home editor" and was coeditor for Talking Leaves and Dreamers and Desperadoes.
Lesley has juggled teaching and writing for more than three decades. After earning a master's degree in English at the University of Kansas in 1970, he settled in the Portland, Oregon area to teach English and creative writing at Clackamas Community College for the next 25 years. Then in 1980, he received an M.F.A. from the University of Massachusetts. More recently, Lesley served a three-year appointment as the Hallie Ford Professor of English and Writer in Residence at Willamette University. He also was at Lewis & Clark College for one year as a Visiting Fiction Writer and Writer in Residence. In 2002-2003, he joined Whitman's English Department as a Visiting Assistant Professor in English; he remains at Whitman for the 2003-2004 academic year.
Over the years, Lesley has stayed in close contact with his alma mater, faithfully attending his reunions and giving writing workshops and literary readings, both for students and alumni, and in 1991, he accepted an honorary degree from the College at Commencement.