Ice Coring in Greenland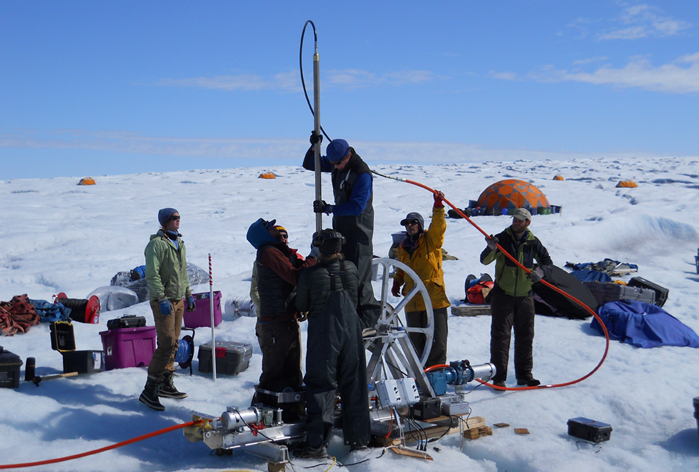 Toby Meierbachtol '13, PhD candidate in the Department of Geosciences at the University of Montana was lead author of "Basal Drainage System Response to Increasing Surface Melt on the Greenland Ice Sheet," published in the August 16 issue of "Science."
"Large-scale ice coring projects collect ice samples and seek out some of the thickest parts of the ice sheet to attain the longest paleoclimate records.Our project was limited to accessing the bed and took a substantially different approach to drilling: fast, light, and cheap. Over the course of 3 field seasons our team drilled 23 holes to the ice sheet bed in ice up to ½ mile thick. Our research team consisted of just 2 professors and 5-6 graduate and undergraduate students. Our hot water drill, designed by co-author Neil Humphrey and constructed at the University of Wyoming, pumped cold surface water through a series of heaters and high pressure pumps to melt a hole through the ice sheet at 100 meters per hour. The fast drilling and portable nature of the drill (6 people could pick it up and carry it) allowed us to drill multiple holes at each site before loading our equipment and flying it via helicopter to the next drilling location on the ice sheet."