Professor Melissa Wilcox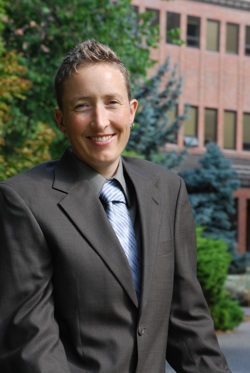 Photo credit: Janet Mallen
Dr. Melissa M. Wilcox
Associate Professor and Chair of Religion
Director, Gender Studies Program
Contact info:
Office: Olin 152
Phone: (509) 527-5247
Fax: (509) 527-5039
E-mail: wilcoxmm@whitman.edu
Fall 2012 office hours:
Mondays 3:00-4:30
Thursdays 10:30-12:00
Bio:
Ph.D. 2000, Religious Studies, University of California Santa Barbara
Click here for my current curriculum vitae.
My training is in sociology of religion, American religious history, gender studies/queer theory, and religious studies theory (especially the History of Religions school). I consider myself a sociologist of religion and a gender studies/queer studies scholar by trade. In general, my teaching and research interests center around the interactions of religion with gender and sexuality, and with a variety of forms of oppression and resistance. I am also interested in the cultural power of religious and quasi-religious narrative, especially as it affects internalized oppression and empowers resistance. Both of my earlier books - Coming Out in Christianity (Indiana University Press, 2003) and Sexuality and the World's Religions (ed. with David W. Machacek; ABC-CLIO, 2003) - focus on these themes. Queer Women and Religious Individualism (Indiana University Press, 2009), examines the roles that spirituality and religion have played in the lives of queer women in the Los Angeles metropolitan area. I'm currently working on research on the Sisters of Perpetual Indulgence. In October of 2012, look for my hybrid textbook/course reader on religion and society, entitled Religion in Today's World: Global Issues, Sociological Perspectives, from Routledge.
Courses:
Here are the most recent syllabi for courses I currently teach (all are in .pdf format), along with book lists for upcoming courses. Note that my syllabi change each year, so these are approximations of what the next version of the course will look like.
Religion 107 / Soc 127 - Religion and Society (Not offered 2012-13)
Religion 287 - Queer Religiosities (Also counts for Gender Studies credit; Fall 2012)
Religion 355 - Religious Intolerance in the Contemporary U.S. (Not offered 2012-13)
Religion 359 - Gender, Body, and Religion (Also counts for Gender Studies credit; Not offered 2012-2013)
Religion 387 - New Religious Movements (Next offered Spring 2013)
Gender Studies 100 - Introduction to Gender Studies (Next offered Spring 2013)
Gender Studies 238 - Men and Masculinities (Not offered 2012-13)
Gender Studies 328 - Queer Studies (Fall 2012)
Gender Studies 490 - Senior Seminar (Fall 2012)