Education Opportunities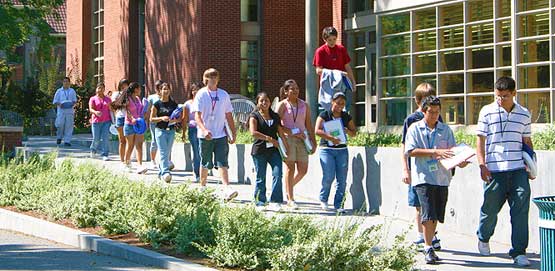 While at Whitman
Meet with one of Whitman's Pre-Education Advisors (Contact: Nathan Boland [bolandne], Barbara Hoffman [hoffmabb], or Michelle Janning [janninmy]) (all Whitman emails are listed as [name] without "@whitman.edu")
Find out about current events and opportunities on campus related to education by joining the Education Listserv (Contact: Michelle Janning, Professor of Sociology [janninmy] if you would like to be added.)
Think about tutoring on campus through the Academic Resource Center. (Contact: Mary Claire Gegen, Academic Resources Program Coordinator [gegenm, x5213])
Apply to work as a student aide (paid positions available) at our on-campus childcare center: The Kids Place. (Contact: info at kidsplacereggio.com).
Practice science pedagogy in local schools with Whitman's Science Outreach. (Contact: Heidi Chapin [chapinh])
Seek education-related job search help and internships through programs offered through the Student Engagement Center. (Contact: Susan Prudente, Outreach Coordinator [prudensk, x4429])
Seek local school-based opportunities (some paid) through community programs that support college readiness and learning improvement:

WISE Program (Contact: Sonja Aikens [aikenssl])
Walla Walla High School AVID Tutors (Advancement via Individual Determination) (Contact: SWeber at wwps.org, 526-8621)
Academic Lab (Contact: bkitamura at wwps.org)
WSU Gear Up (Contact: fsalinas at earlyoutreach.wsu.edu)
Consider summer opportunities in education-related placements:
Post-Graduation Teaching Opportunities
Graduate School and Careers in Education
State-by-State Certification Requirements:
Students who are interested in learning about the teaching certification requirements for a given state should Google "Teaching Credential [Enter State Here]" or follow these links:
National Opportunities
Public, Charter and Private Schools
STEM (Science, Technology, Engineering, and Math) focused opportunities:
Teaching Fellows: Different cities/states offer opportunities for recent college graduates to join their public school systems and gain experience while helping to raise student achievement.
Teacher Residency Programs: This is a method of recruiting and training teachers for hard-to-fill positions. Usually the programs give teaching residents a year of "on-the-job" training, similar to a medical residency, so that they can hit the ground running when they become responsible for their own classrooms.
International Opportunities