Walking the Talk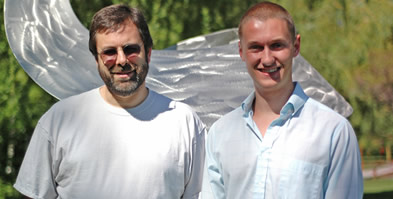 As independent thinkers, Whitman students have impassioned, closely held opinions about everything under the sun. And all you have to do is to watch Whitman's nationally recognized debate teams in action to know they're not shy about voicing those opinions. This is a community that enjoys intellectual challenges and conversations of substance. Debates about big ideas and important issues. The kind of talk that leads to action.
Meet Matt Schisler from Bellingham, Washington. He's an athlete, a member of Whitman's fly fishing club, and a DJ for KWCW 90.5, the college radio station. He's a serious scholar — a politics and rhetoric and film studies major with a GPA that hovers between 3.8 and 3.9. He's also a recipient of a President's Scholarship for debate and a team leader of Whitman's nationally renowned debate team.
"Thanks to the many generations of dynamic debaters Whitman has produced, we enjoy a reputation for being one of the country's hardest-working teams," explains Matt, whose debate preparations include spending between six and 15 hours everyday on scholarly research.
"This program is uniquely Whitman — rigorous, yet laid-back. Like the Whitman community in general, we challenge ourselves and work incredibly hard. But, like the Whitman community in general, we also have as much fun as we can. We compete across the nation—and we're pretty successful!"
Jim Hanson, professor of forensics and speech and debate, chief coach of Whitman's debate team, and the winner of many coach-of-the-year awards, agrees with Matt. "Most of the top college debate programs tend to excel in one form or the other but our students lead the nation in both the policy and parliamentary debate competitions. In recent years, we've finished in first-place nationally in the combined sweepstakes scoring, which is pretty impressive for a small school like Whitman.
"I think it's just the kind of high-caliber students Whitman attracts. Typically, they are very dedicated, very hard-working, and enjoy intellectual challenges. But, importantly, they are also team players. They are friendly, down-to-earth, and tend to support one another."
"I've had teammates stay up all night to help me research for a debate," adds Matt. "I've met incredibly devoted coaches and professors who are right there beside us through the long hours of preparation. That kind of camaraderie is a big part of why I chose to come to Whitman — I felt an immediate connection, as though I always had a place here and just didn't know it."