This Is Rocket Science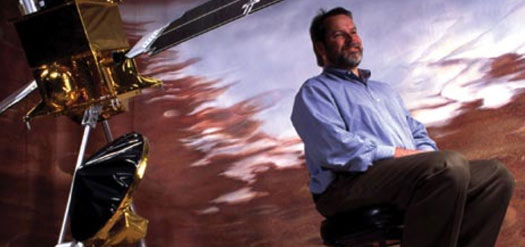 Whitman alumnus chief engineer for NASA's Mars rover mission
Rob Manning '80 — named by Space-News in 2004 as "one of 100 people who made a difference in civil, commercial and military space since 1989" — grew up in a small farm town in northwestern Washington where "academics, science and engineering seemed the furthest thing in the world."
But a Whitman College education helped him realize his dreams, he says.
And he continues to live his dream life.
Manning, chief engineer with NASA's Jet Propulsion Laboratory (JPL) in Pasadena, Calif., oversaw NASA's Mars Pathfinder project, helped conceive and execute the Mars Exploration Rover mission and supervised robotic Mars landings. He also is chief engineer of what is probably the most complex extraterrestrial robot ever conceived — the Mars Science Laboratory (MSL) project and its car-sized rover, Curiosity, which is under construction.
Manning credits Whitman with helping him develop the self-discipline and study skills that put him where he is today — building the space probes he read and dreamed about as a child.
"I didn't believe that I could really become an engineer until I got to Whitman," says Manning.
"I was very nervous," he said. But he was surprised by "the approachability, the enthusiasm and the extraordinary quality of the faculty. The Whitman community welcomed me into a world I had only dared to dream to be part of," Manning says.
And the possibility of completing the Whitman-Caltech 3-2 program (which enabled him to earn a bachelor of arts degree from Whitman and a bachelor of science degree from Caltech in five years) inspired him. That, and fear, he says.
"I literally lived in the college library under a portrait of the great Indian Chief Joseph. He was very stern and seemed to encourage me not to lose sight of my goals. I didn't."
The rest is history. In 1981 (while still a student at Caltech), Manning was offered a part-time position as an electronics draftsman for the Galileo mission at JPL. He worked on NASA spacecraft computer systems until the Mars Pathfinder project took over his life in 1993. There he served as Pathfinder's chief engineer and also led the entry, descent and landing team.
Pathfinder and little Sojourner Rover successfully bounced into Mars history on July 4, 1997. Later Manning led the development of the Mars Sample Return Lander until the failure of two Mars probes in 1999 indefinitely postponed the development of Mars Sample Return.
In an attempt to regain NASA's Mars exploration stature, Manning and a team at JPL conceived and proposed the Mars Exploration Rover (MER) mission based on the Mars Pathfinder design in April 2000. Manning became the MER system engineering manager and later, entry, descent and landing manager.
He supervised his second and third hair-raising robotic Mars landings when Spirit and Opportunity rovers landed successfully in January of 2004.
Later Manning became chief engineer for NASA's overall robotic Mars Exploration Program. In 2008, Manning decided to return to building spacecraft. After helping to get the Phoenix Mars Mission safely to the surface of Mars, Manning became the chief engineer for Curiosity, set to launch in fall 2011.
"Almost unbelievably, after more than a quarter century, I have found myself a solid fixture in the world of robotics and space exploration. My comfort to ask questions, to express enthusiasm and wonder at our natural world as well as the never-ending depth of human creativity comes squarely from the examples the Whitman community laid before me.
"Whitman is an amazing place, and I am proud to have experienced it."