The (Harper) joy of theater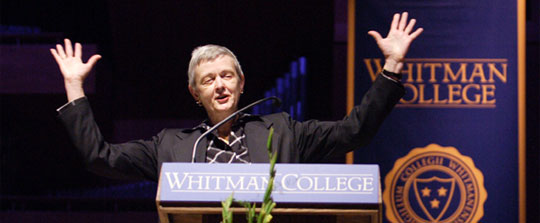 Nancy Simon's gestures say as much as her words. They tell us, in so many motions, that she has lived 50 years of her life in the theater, 41 of them at Whitman College.
Ask Simon '63, Garrett Professor of Dramatic Arts and director of Harper Joy Theatre at Whitman, about the humor in Samuel Beckett's plays or the layers of dramatic meaning in "The Merchant of Venice," and her arms will rise and fan out like the wings of an Andean condor about to ride a high-mountain thermal. They suggest something not only about Simon's temperament but also her approach to life.
"My feeling is that we all should be completely involved in this opportunity of ours, this chance to be alive," she said, sitting in the lobby of HJT, her "second home." "The awareness we acquire, here and in the world, really does allow us to live as fully as possible."
Simon has made every effort to instill that wisdom in her students since she returned to Whitman to teach in 1967. "We think theater is an important profession and a way of life," she said. "We train people in all aspects of it because we think they're all equally important. We de-emphasize the glamour-and-fame aspect because it isn't important."
Simon had no notion, much less a plan, to return to Whitman after she graduated. Nor, in her most extravagant fantasy, did she ever imagine staying at the college for more than four decades after she'd returned. At the same time, she's not surprised at the outcome of those events.
"I loved it here as a student," said Simon. "My mother said the unhappiest she'd ever seen me was when I had to turn in my theater key at graduation."
Simon went east to Tufts University outside Boston for a master's degree. She still remembers from that time a billboard above the Harvard Coop in Cambridge. Then, it caused her to stop and think. Now, it guides her work and life: "Keep an open mind," it read.
"Willful ignorance is the deadliest of sins," Simon remarked in her Baccalaureate address at Whitman in 2006.
Willful exuberance took her to the University of Washington for her Ph.D. To hear Simon tell it, she "lucked out." She was part of the earliest doctoral program in theater in the school's history. "They didn't know quite what the program was supposed to be, so you could do anything you wanted," she recalled.
Simon passed up a tenure-track position at a state university to accept a one-year position at Whitman. The college couldn't offer her what she wanted: a full-time post teaching acting and directing. What it could cobble together — part-time faculty and part-time administrator of a theater-in-the-schools program—was good enough.
"I hadn't been gone that long, so I came back to many close relationships and started other wonderful new ones," she said.
Before she could catch her breath, Simon had created a children's theater program at Whitman and moved into a full-time faculty position. Her own directing credits now number more than 100. They run the gamut from "The Mikado" to "The Caretaker" to "Cosi fan tutte." [CQ] She's drawn to comedic repertoire most all of all because "it's who I am in so many ways."
"I value more than anything in life a sense of humor about oneself and about living in this world," she said.
Simon grew up "absolutely optimistic — and more than a bit self-centered" on Chicago's South Shore, where her father held a delivery job at Continental Bakery. ("My birthdays were amply supplied with Hostess cupcakes," she noted.) Better jobs took the family to Spokane, San Jose and Whittier, Calif. When Simon started high school in neighboring La Habra, she wanted to be a field ecologist.
"My parents told me from the start that I should do, and could do, whatever I chose to do," she said. "The theater wouldn't have been their first choice for me, but they were supportive and proud of what I did."
What Simon insists on doing at Whitman is training students in every aspect of the theater. The more a student understands the collaborative process, she believes, the better her work will be. Simon also holds that the academic learning that occurs in the classroom only benefits the work that her students bring to the stage.
"All of what happens in this theater is informed by what happens in class," said Simon. "We don't countenance our students coming in and saying, 'I couldn't finish my paper because I was at rehearsal.' That's anathema to us."
Simon is "absolutely opposed" to conservatory training for undergraduate students. "Theater does not need ignorant people," she said. "Anybody working in the theater has to have the ability to look critically at things and the capacity to be moved by things, to touch and be touched by things, to sense things. In the theater, you never know what you will need to be aware of or find out about. The first glimpse is hardly all there is to be found."
Here, Simon believes, is where Whitman excels. And where Simon herself has soared since returning to her alma mater more than 40 years ago.
"For theater students in particular, Whitman is almost unique in the combination it offers: a truly excellent liberal arts education and four years of comprehensive experience in the theater," she said.
For her part, Simon has taught theater from one side of Washington state (Orcas Island) to the other. She's lived and worked in New York and London. She's directed plays in which characters blow their brains out ("The Philanthropist") to plays in which townsfolk divine for water ("The Diviners"). What's kept her coming back to Whitman year after year?
"The work," she said without hesitation. "I love teaching. I love directing plays. I couldn't do it elsewhere as I do it here. I have a theater and a budget for that theater and the chance to do as many plays in a season as a rep company does."
For Simon, it all tracks back to Socrates, and maybe earlier. The key to living, she believes, has to do with "the idea that one thing informs another, that the beauty of our lives is perhaps informed by the shortness of life."
"My life on the whole has been chapter after chapter of fortunate accidents," said Simon, her hands moving up and down like chef's knives, slicing the invisible timeline into chapters. "I have no investment in retirement, because the things I love to do I'm able to do here."