Scaling New Heights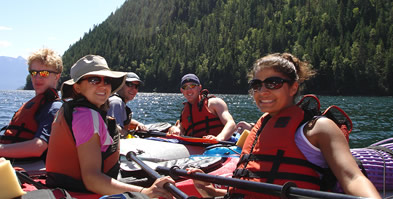 Perhaps it is the natural beauty of our stunning location halfway between the Rockies and the Cascade mountains. Maybe it is our common desire to reach out to one another and, together, reach far into the world around us. Whatever it is, a deep love of the outdoors has always flourished at Whitman.
Our First-Year Scrambles, for example, is a tradition that brings together new classmates in weeklong canoeing, backpacking, or climbing adventures, giving them the opportunity to make friends even before their first semester. Subsequently, from kayaking on the Snake River to climbing Spring Mountain, Whitman's Outdoor Program offers students innumerable opportunities to experience the extraordinary Northwest wilderness, to explore new interests and discover new heights to scale.
It helps that they are led by Brien Sheedy, the director of the program and a passionate outdoorsman with a master's degree in geography. He knows all about scaling new heights — he is one of fewer than 150 people on the planet to have scaled the highest peak on each of the seven continents, including Mt. Everest.
"Whitman has one of the most comprehensive outdoor programs in the nation," says Sheedy, who makes it a point to wear Whitman patches on his climbing gear and fly Whitman banners at mountain base camps and summits. "What I'm most proud about is the way OP works hand-in-hand with academics at Whitman. It's great to see students discussing rock formations or environmental politics with one another after an OP trip.
"It's not just about setting off on adventures to beautiful places. It's about appreciating the sense of place, the deep connections with the outdoors, which shapes the Whitman experience. About developing strong leadership and interpersonal skills."
For Katherine Curles, a psychology major, a swimmer, and a one-time Scrambles intern, it's also about bonding with other students and developing lifelong friendships.
"For me, it's amazing that you can go backpacking, camping, boating, kayaking, rafting, climbing, fly fishing, and skiing all within two hours from campus. The fact that Whitman has a fantastic Outdoor Program that provides you with everything you need to enjoy it all — even as a beginner — is even better. And the fact that such an adventure is one of the first things you do as a freshman…it's just so uniquely Whitman."
"My scramble experience was the first time I went backpacking," recalls Katherine, "and I'm still in touch with the people I went with. And I met more than 200 freshmen and their friends, as an intern with the program. It's really cool how the program totally dissolves boundaries between people on campus."