Penrose Library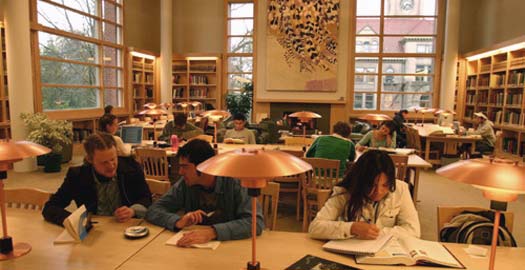 Penrose Library serves as a bridge between the Whitman College community – students, faculty, administration, and staff – and the information resources that promote teaching, research and learning. The library's mission is to provide access to a diverse collection of resources to support faculty and student research and learning, and to guide students through the research process, helping them develop critical thinking skills, synthesize information, and communicate the results of intellectual inquiry.
How does Penrose Library, consistently ranked highly by the Princeton Review, accomplish this mission? The library's digital environment, with more than 21,000 unique journal titles and 120 databases, complements its 400,000-volume print collection. Penrose is one of only a few college libraries that are open 24/7, and the facility itself was built and renovated with the idea that form follows function. Penrose's archives and special collections include 3,500 linear feet of archival and manuscript material and over 5,000 rare books. And Whitman College is a member of the Orbis Cascade Alliance, which combines the assets of academic libraries throughout the Northwest to provide free access and courier delivery of millions of volumes.
And, perhaps most cited by students – in addition to the small study rooms, computer labs, printing stations, and café – is the Allen Reading Room (pictured), which is THE SPOT to study. It's also the home of a sacred Whitman tradition: The last person to leave the room at night inscribes a ledger, documenting his or her time spent toward an academic endeavor.
The library staff is not to be overlooked: "We work to ensure that students can retrieve, evaluate and synthesize information, here at Whitman and in their future academic endeavors," says Dalia Corkrum, library director. "Whitman students and faculty often are equal partners in research endeavors, and the library caters to that core emphasis. We focus on anticipating faculty and student needs."
A key pathway toward integrating the library and the academic program is the way in which librarians work collaboratively with faculty, helping them shape assignments dealing with information literacy concepts and principles. At the heart is a focus on research skills using a problem-based approach to information literacy instruction.
"Penrose Library is far more than a stunning facility that is well-equipped with resources," Corkrum says. "It is an educational partner; it serves to facilitate teaching, learning and research."