Musical Adventures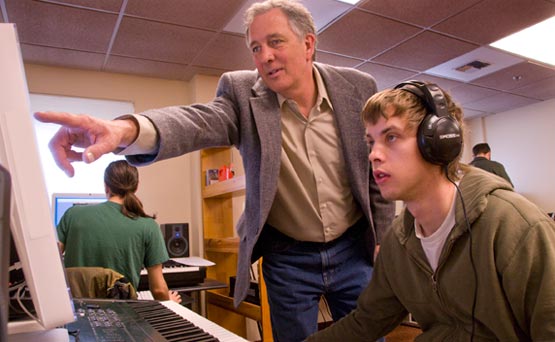 Peter Crawford working with Kyle Buckingham '09
Walk into Whitman College's music building and invariably the expected sounds of pianos and other classical instruments in hard use greet you. Classical pieces ripping along at hurricane levels, notes crashing and flying, a swirl of music reaching flood stage behind the dam of a closed practice-room door.
Serious study of the classics and jazz happens there. But downstairs there are sounds not expected – new sounds, some never before heard-that come from Whitman's music technology laboratory and its computer stations and cutting-edge software that enable such innovation.
There was, for example, that class period when the sounds heard were compositions students created using nothing but manipulated electronic feedback.
And another interesting-sounds episode happened after students walked the campus in search of weird and fetching sounds, captured those sounds electronically, and brought them back to the lab to create one-of-a-kind music compositions.
"We're creating not just music, but new sounds, and manipulating them in a way that would have been impossible before digital technology," said Peter Crawford, senior lecturer of music at Whitman.
Crawford, also director of the college's wind ensemble, has both a classical music and jazz background. For years he was trombonist with the Joe Dowen Show, a New York City-based traveling band that had regional hits. He also traveled with other bands before finishing a music education degree in North Dakota and then a master's degree in trombone performance at the University of Idaho. He has also done doctoral work in trombone performance at the University of Arizona.
His Whitman career started as a sabbatical replacement for David Glenn, Whitman's director of jazz studies. Crawford became full-time in 2001 when the college established a music technology lab so that Whitman graduates going on to graduate level music programs would have experience with computer-assisted instruction in music theory, ear training and experience with computer-assisted composing, arranging and recording techniques.
The lab, sound-proofed, rewired and enhanced with $40,000 in new equipment, became available in 2003, and Crawford's popular classes are always at capacity. Although the college doesn't offer a music technology degree, students have the option of getting approval to design their own majors. One music tech student has done that so far-graduating with a music technology degree and then going on for further study at York University in England.
Christie Seyfert '09, who is majoring in English, said Crawford's music technology is easily "one of the most enjoyable and entertaining classes I've ever had. He is so knowledgeable about everything music. It seems like he has an endless knowledge of musicians, key figures in music history and music technology, random and crazy facts, and a great understanding of recording, mixing and mastering, and live performance techniques," she said.

Crawford started using computer sequencing on an Apple IIe while teaching high school back in the 1980s when computers were an uncommon way to enhance music education. In the early 1990s, as a band and trombone teacher at the College of Southern Idaho, he began teaching music technology.
His beginning music-tech course covers acoustics, the science and physics of sound, computer music notation and layout, basics of musical instrument digital interface (MIDI) recording, digital audio, sequencer basics, presentation software, accompaniment programs, survey of music theory and music education software, and other topics related to music instruction and performance. The intermediate class continues with those subjects-with an emphasis on composing music with the computer, computer music notation, recording and mixing techniques, and MIDI/Audio Sequencing and an introduction to perception and cognition in music.
Glenn met Crawford while both were judges at a past Lionel Hampton Jazz Festival.
"He's a really fine trombonist," said Glenn, who like Crawford has also worked as a professional trombonist. Glenn has toured with Diana Ross, Lou Rawls and others, recorded with various top artists and was on the Grammy-award winning recording Walk on the Water by the Gerry Mulligan Concert Jazz Band.
Glenn also admires the way Crawford works with students.
"He has an easy going manner, but he's also very knowledgeable," said Glenn said.
Crawford, who grew up in Mandan, N.D., and worked in his spare time at his parents' restaurant, the Western Grill-cooking local favorites like beef tips and noodles-started music training at a young age. He was the member of an elite boys choir, learned guitar by watching his brothers play, studied trombone, piano and was in a jazz band. Playing trombone was a decision of economics. His brother had quit playing and there was an unused trombone in the house. But Crawford is happy about it. He calls it "God's instrument" and loves the beautiful "sonorous" tones that are roughly in the range of the male voice. It's also a comical instrument.
"Every instrument has its own character, personality … and I like hanging out with trombone players," he said, describing trombonists as gregarious.
He related that as an undergraduate he left his music-education studies for a while to pursue a professional music career. And for a time he also ended up in Alaska working as a commercial fisherman before completing his undergraduate degree and then his graduate studies.
Teaching is now one of his greatest thrills. Crawford, who in his spare time reads science, quantum and astrophysics and such for fun, and also is a serious disc golf player, said Whitman students are incredibly bright and challenging. "Every day is exciting. The students are always curious and pushing me to learn more," Crawford said.
Ongoing learning is mandatory in this ever-changing field. "Music technology changes daily," he said. "You can't ever teach it in the same way."
Seyfert said Crawford makes class an adventure.
"What more could you want than music and adventure combined?" She said.

– Virginia Grantier