Intramural Community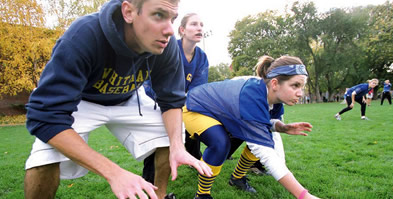 Community isn't something that is automatically generated when a group of people live or learn or work together. It is inspired by cherished traditions, spontaneous experiences, and deeply rooted values. There's a unique sense of community that thrives at Whitman, and it's much greater than the sum total of our location, our buildings, our programs and our people. It is about an attitude, a lifestyle. And about Ultimate Frisbee!
The success of Whitman's intramural sports programs (IM) and the friendly, yet competitive, spirit of our intramural teams are great examples of the powerful sense of community that flourishes on the Whitman campus. Whitties are active. More than 25 percent participate in varsity athletic programs. And more than 70 percent of them regularly gather on Ankeny field to participate in one or more IM events — as independents or as members of teams hosted by fraternities, sororities, and residence halls.
As student Danny Kaplan, from Highland Park, Illinois, explains: "Being on an IM team is a great way to take your mind off of school and just let loose," says Danny, who is still deciding on his major. "It's really for the sake of fun, not competition. And it's allows you to play a sport you love, or try a new one, in a relaxed setting. I love Whitman's intramural sports scene!"
From Ultimate Frisbee and flag football to basketball and dodge ball, Whitties take advantage of an extensive range of IM offerings to have fun, make new friends, and discover new interests and abilities. The IM leagues organized during Fall and Spring also culminate in a championship game for every sport. Not surprisingly, the prize awarded to members of winning team, the "coveted" Blue Shirt, is something Whitties treasure for years after they graduate.
"There's a constant sense of possibilities for fun, spontaneous events on the Whitman campus and that is something I really value," says sociology and environmental studies major, Libby Culclasure, a native of Nashville, Tennessee. "It comes from being a very inclusive community. Everybody's ready to engage with one another, everybody's friendly, everybody is willing to enjoys an impromptu game of Frisbee golf or compete in an IM sport. People are talented and smart but laid-back and comfortable. And from students to professors to staff, everybody wants you to feel comfortable and at home."