Global Perspectives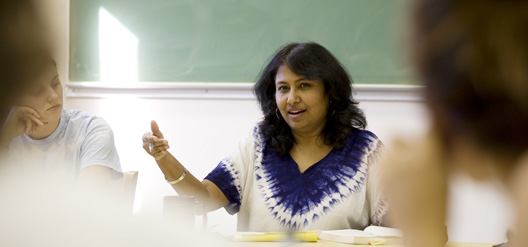 There was a moment, an episode, in Shampa Biswas' life as a graduate student when the center no longer held and the way she considered the world changed, fundamentally and inexorably. It occurred in the space of 432 pages of a book by Edward Said called "Orientalism."
In the book, Said observes that the panoramic view of the East by scholars in the West has essentially painted half of the world into a corner. He urges that "narrative" replace "vision" in any interpretation of a geography and its people. "Vision" classifies and labels. "Narrative" records and critically assesses the variety and dynamic nature of human experience.
"Said's book was truly transformative, one of those 'aha!' moments," said Biswas, associate professor of politics at Whitman. "It was eye-opening to see how literature, which I dearly love, has been complicit in perpetuating inequality in the world."
More important in the context of her teaching was Said's insight that all knowledge is political. "It opens up the pedagogic possibility of also thinking of knowledge as politically liberating," she said.
Biswas uses "Orientalism" in her "Alternative Voices" class. With each fresh reading of the book, "new windows" open in her teaching. Said's call for critical analysis — part and parcel of the learning experience at Whitman — is precisely the petition Biswas delivers to her students.
"Not every moment in the classroom is transformative, of course, but as a teacher, you always hope to bring knowledge that will generate that spark of enlightenment," she said. "I really savor those moments." Biswas recognizes both the influence and responsibility that come with her job. Honesty as an educator demands that the educator be forever a learner, she maintains.
"I never felt a calling to teach, but I knew why it appealed to me soon after I started," she said. "Teaching keeps me intellectually curious and productive in useful ways. My students are exceptional in many respects, and I learn a great deal from them. They challenge me to think in new ways about texts that I have read and thought about many times over."
Her other great challenge is inanimate but hardly incidental. It is a 10-letter god called Technology, whose family includes the demigods iPod and Internet. "The so-called 'multitasking' and fractured attention spans of students disturb me," Biswas said. "I want my students to lose themselves in reading and discussion, not in text-messaging. I think of college as an almost sacred place for reflection, and there aren't many places left for the open contestation of ideas."
Biswas' sanctuary for undergraduate study was St. Stephens College of the University of Delhi. She went on to earn the first of two master's degrees at the Delhi School of Economics before migrating to the States in 1987 to study international relations at the Maxwell School of Citizenship at Syracuse University. It was an intellectual trajectory she hadn't expected. "I was pulled at every point by teachers I met and things I read, and before I knew it I was getting a Ph.D.," she said. The terminal degree came from the University of Minnesota, where Biswas studied political science. Four months later, in the fall of 1999, she started at Whitman. It was her first full-time teaching job, and she arrived with no small amount of apprehension. Professors of color at the college were few.
She worried about how her students would receive her. She wondered whether her expertise and authority would be respected. Acceptance understates what Biswas found in her classes. From the start, her students were hungry to be challenged, and trusting enough to challenge her. "My first year at Whitman was intense and crazy and I loved it," Biswas recalled. "That was the year of the World Trade Organization protests in Seattle; I was teaching a course in international political economy. About 90 percent of the class went to Seattle to participate in workshops and, in some cases, to protest. It wasn't part of the course, but it was an example of what I hope all of my courses will do.
I want my students to become active citizens in whatever forum they choose." Two years later, the terrorist attacks of Sept. 11 opened the floodgates of political discourse. Biswas was on sabbatical at the time and left for Sri Lanka with her family soon after the attacks occurred. When she returned to Whitman, the challenge before her was plain: How in her classes — "International Politics" in particular — could she coax her students to assess critically the causes and effects of 9/11 and still remain sensitive to "the overwhelming impulse toward patriotism"?
Her answer was to devote a whole section of the course to 9/11 and the subsequent conflagrations in Afghanistan and Iraq, incorporating into the discussion her own experiences abroad. "There's a way of addressing political events intellectually without diminishing their emotive content," Biswas said. "If, for example, you start with the assumption that suicide bombings are automatically irrational and pathological, then there's no way of understanding that action intellectually. You close that space. And I want that space to be always open."
One dynamic way Biswas creates openness in her classes is to approach each course with an interdisciplinary lens. Her syllabi routinely feature readings across disciplines, and her students tackle seemingly disparate issues and themes in arresting ways. In one class, Biswas juxtaposed female genital mutilation in Africa with cosmetic surgery and anorexia in the United States. "Try to imagine what it might be like for a person in Africa who doesn't have enough to eat to consider the practice of eating food and then vomiting it," she said. "In the U.S., you know the social and cultural context. But viewing it from a different space, it might seem as bizarre as female genital mutilation looks to us."
In this regard, Biswas is as much instigator as educator in her academic life. "A lot of what I do in my classes is to confuse frames to see elements in a new light," she said. "It's a stretch for many students, but education should be a stretch. I'm not telling students to accept or excuse anything. I'm asking them to think through something — broadly, deeply and, for me, globally."
Want more? Read Professor Biswas' Whitman College 2007 Convocation speech, titled "What Is At Stake?"