Global Citizens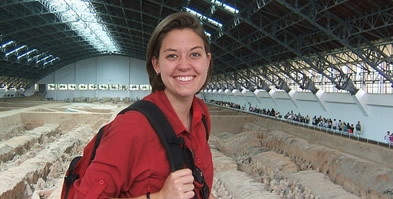 A unique educational experience is about much more than classroom learning. It is about connecting the past to the present in order to envision new futures. About exploring new cultures and old civilizations. About changing the way we look at ourselves by looking at the world around us. And changing the way the world looks at us by expanding our own worldview. It is about transforming the self.
Lindsey Gehrig '05 describes her Whitman experience as a "series of doors opening in a sort of domino effect." A native of Bellevue, Wash., Lindsey was initially drawn to Whitman by a combination of things: an interest in a rigorous liberal arts education, a passion for varsity athletics and basketball, and Whitman's prestigious Sherwood Scholarship. But once here, Lindsey discovered Whitman also offered an extensive array of study abroad opportunities in Africa, Asia, Europe, and Latin America. So, like about half of all Whitman students, Lindsey, who majored in politics, decided to take advantage of them.
"Thanks to the great study abroad staff at Whitman, I was able to apply for internships in London and found a position at The Atlantic Council for the United Kingdom. The experience ended up being a huge boost, both for my interest in international relations and politics and my resume. It also helped me find another internship — with Congresswoman Jennifer Dunn in the 8th Congressional District in Washington State."
"Once I graduated, I knew I wanted to work and travel abroad some more so I applied to the Whitman in China Program, which sends six Whitman alumni to China every year," says Lindsey. "I was accepted and it turned out to be one of the most challenging, stimulating, amazing years of my life!
"The caliber of people you are surrounded by at Whitman and the kind of global opportunities you are presented with are impressive," Lindsey says.
"Whitman students have an interest in learning that supersedes their transcripts. They see their undergraduate experience as a way of making other bigger things happen in the world. They are laid-back but also ambitious and extremely curious about the world and their place in it."
"Whitman teaches you, forces you, to think," she concludes. "It sounds simplistic in some ways but in other ways it's the most difficult thing to do. I know I listen to the news differently. I listen to instructions differently. I interact with people differently. I view the world differently."
Reflecting further on her Whitman days, she says "Due to the international nature of our work, my experiences overseas have been invaluable. Not only did my time abroad influence my coursework in graduate school and my decision to focus on U.S. foreign policy, but having a global perspective is a tremendous asset when researching, writing proposals, evaluating policy and helping to coordinate bilateral or multilateral agreements."
In 2009, Gehrig began working for the Department of Energy in the National Nuclear Security Administration as an associate research fellow, in Washington, DC. She continues her international education, and through her work will travel to South Africa, China, France and the Middle East.