Fulbright research abroad leads Bridget Kustin '05 to advisory work in D.C.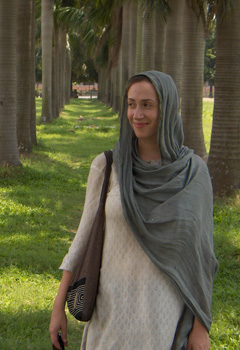 When Bridget Kustin '05 enrolled at Whitman College in the fall of 2001, her chief goal was "to move beyond my suburban Los Angeles upbringing." Since then, the English major and debate champion has journeyed all the way to Bangladesh as both a Fulbright research fellow and recipient of the Fulbright Islamic Civilizations Award.
Now, after all of her experiences and research abroad, she is far from suburban L.A., working in Washington, D.C. for the United States Commission on International Religious Freedom — a federal, bipartisan advisory body that provides recommendations to the U.S. Congress, president and secretary of state.
"As South Asia researcher, I have had the privilege of meeting in D.C. and abroad with human rights activists, political leaders and reformers, survivors of violence, and leaders of religious communities," Kustin said. "Their narratives of violence and other violations of the freedom of thought or conscience inform our policy recommendations to the U.S. government."
She has received a full scholarship for the Ph.D. program in cultural anthropology at the Johns Hopkins University, to study religion, nationalism, development, and Western interventions in South Asia.
"I'd like to use my experiences in South Asia, my policy work in Washington, and my academic concern for broader theoretic issues of power, nationalism, and religion to position myself as an effective advocate for human rights." She hopes she can assist in the development of "a more innovative, responsible approach to U.S. foreign relations and diplomacy."
Kustin came to Whitman as a Claire B. Sherwood Scholar. She was eager to form "intellectual connections" with her peers and teachers. She wanted to learn firsthand about the natural world after so many years in the urban bush of the San Fernando Valley. And she was keen to participate in competitive debate.
As a senior, Kustin and fellow student Scott Thompson came within one point of winning the National Parliamentary Debate Association Championship for duos. More important, she and Thompson helped Whitman claim its first national debate title in the season-long sweepstakes competition.
Competing in the final round of the national finals was but one of several personal achievements for Kustin in four years at Whitman. She was a presenter at an environmental education conference in Maine; a volunteer for trail restoration in Colorado; and the author of a far-reaching honors thesis in English on postcolonial literature written by South Asian women. In her junior year, she lived and studied in Jaipur, India, through Whitman's Study Abroad program.
When Kustin graduated, she took with her the advice of Brien Sheedy, director of outdoor programs, among other Whitman faculty and staff. Sheedy's counsel was aimed at safety in nature, but Kustin realized that it applied to every facet of her life. "Know the risks and minimize them," Sheedy told her. "Then, full-speed ahead!"
Kustin's Fulbright project was a study into U.S.-funded initiatives to increase the participation of imams, or Muslim religious leaders, in community development, and it included a survey of 400 imams regarding their perceptions of Islam, the U.S., and local power politics. She has presented her research at conferences and workshops in Bangladesh, India, Tunisia, and throughout the United States.
Kustin also studied Bengali at the University of Madison-Wisconsin, in Bangladesh and in Kolkata, India while a 2006-07 Fellow with the American Institute of Indian Studies.
The Fulbright Student Program, for which Kustin created her own project, is the flagship of educational exchange programs in the United States. Established in 1946 by the U.S. Congress, it allows students, scholars and professionals to undertake international graduate study, advanced research, and teaching positions in elementary and secondary schools and universities worldwide.