Free Spirit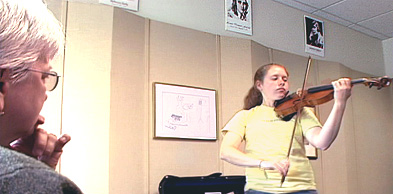 Violinist and musicologist Susan Pickett, Catharine Chism professor of music, has inspired generations of Whitman students with her passion for music and for defining women's historical place in the world of music. She gives no indication of slowing down any time soon.
"I'm entering my 29th year at Whitman," said Pickett as the fall 2009 semester began. "I'm in the process of producing my third CD and have finished my book on the composer named Marion Bauer, who was born in Walla Walla in 1882. The book also profiles her sister, Emilie Francis Bauer, born here in 1865, who became a music critic. Both sisters spent their professional lives in New York City."
During the past two decades, Pickett has uncovered the music of several hundred women composers from the 17th through the 20th centuries, collected more than 35,000 pages of music written by them, and published more than 30 editions of music by classical and romantic-era women.
Pickett graduated Phi Beta Kappa from Occidental College, holds an M.M. degree from Indiana University in violin performance (high honors), and a Ph.D. in fine arts from Texas Tech University.
"I interviewed for the job at Whitman College as I was completing my doctorate, and I immediately was drawn to the college and the town," she said.
Just what was it about the community that attracted Professor Pickett? She said she believes it was the spirit of intellectual freedom and innovation that she sensed. "I think Whitman offers students and faculty an academic environment that is challenging and innovative. I have freedom to conduct my classes as I see fit, which means they are usually highly interactive. I also have the freedom to teach innovative courses, like my course on women composers, which is rare for a college of this size."
In the past 28 years, said Pickett, she has also enjoyed the extensive student-faculty interaction that lies at the core of the academic experience at Whitman. "I spend a great deal of time assisting students outside of classes," she explained. "I really enjoy getting to know the students better through one-on-one work. Also, because my specialty is women composers, I have been able to mentor students on projects dealing with this subject matter for their senior projects as well as conduct student/faculty research projects with funding from Whitman's Perry Grants program. A few of my students have gone on to graduate school with the specific purpose of continuing their study of women composers.
"I believe Whitman both broadens the students' horizons and prepares them for graduate school and professional goals. That's the beauty of this school. That's why I prefer teaching at Whitman as opposed to a large university. Personal goals are often intertwined with professional goals. We, as faculty, are able to get to know students much better than the typical university faculty, and, I believe, better able to guide them in their professional choices."
"Susan Pickett was one of the reasons I wanted to attend Whitman," said music major Michele Aichele '09. During her senior year, Aichele and Pickett received a Perry Grant for student/faculty research, which funded their collaboration on the "First Edition of Marion Bauer's Prelude and Fugue for Flute and Piano." "Dr. Pickett has passion in the classroom, for the subject she is teaching and for the depth of understanding her students reach. She adapts her teaching style to fit her students so they learn the best. Her knowledge and experience as a teacher and compassion as a person makes her a great asset to the Whitman community. Everyday, upon leaving her class I knew I had learned something and that something would help me as a musician and teacher. Susan Pickett is one of the best teachers I know."