Finding Humor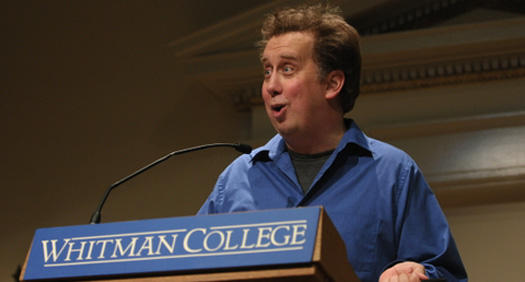 The hound dog that singer Elvis Presley refers to, the one that's "cryin' all the time," was pretty miffed at the singer's negative portrayal and wrote a snarling letter to Elvis giving the valid reasons why he cries (severe clinical depression), and why he has never been able to catch a rabbit, ("…while dark thoughts echo to my very core. I can't catch a rabbit when I'm crying all the time. It's a cycle.") And why he thinks Presley is petty and irresponsible, among other strong words, for not caring or getting him medical help.
But Presley is long-gone and the letter wasn't for Presley's eyes any way, it was for yours — just another published piece of fresh, twisted, upside-down wit penned by a Whitman alumnus John Moe '90, a National Public Radio personality, and an author and columnist.
Author of the book, "Conservatize Me," subtitled, "How I Tried to Become a Righty With the Help of Richard Nixon, Sean Hannity, Toby Keith, and Beef Jerky," Moe is also a columnist for the McSweeney's Internet Tendency, started by author Dave Eggers. The Presley piece is on the McSweeney's site, one in a series of what Moe calls his "Pop Song Correspondences" that also includes such pieces as "Regarding Pete Seeger's Requests for a Hammer and His Descriptions of What He Would Do If He Had One."
Moe, delighted as a retriever in a roomful of bouncing ping pong balls, finds countless things, in all directions, to research, report and write on. He has interviewed an eclectic assortment of subjects, from punk-band musicians to CEOs to writers such as David Sedaris.
Moe, once host of NPR's Weekend America, recalls doing a more personal take on a story — teaching his kids about the heavy metal music he grew up with. A light, fun topic, he thought. But a child's question led to a discussion about why some musicians aren't around anymore, and then there was the interview with Kevin Dubrow of the band Quiet Riot, a "very cogent, friendly, down to earth" person who would die of an overdose a year after the story aired. A story that appears to have a funny premise, often ends up having a lot of humanity, "and terrible beauty when you really spend time … marinating it," he said. "That story still haunts me," Moe said.
His habit of creative thinking started early. Moe said he came from a family where status was achieved "by the quality of your jokes."
But he actually credits Whitman College for launching him into this wonderful life of his.
"Whitman makes you a complete person," said Moe, who was a theatre major, but because of liberal arts requirements took a vast array of required classes in other departments. Information he still uses.
He recalls various profound experiences, professors and classes and says in conversations about Whitman he always brings up Dana Burgess, professor of classics, whom he describes as "a freaking genius."
"What Dana was able to do, and what a lot of Whitman professors would do, is inspire your curiosity," he said. "That's really transformative," Moe said. "That's the souvenir you get when you leave campus."
He said that because Whitman did that for him, he's curious about everything, even working on a story about General Motors, which he found to be "completely fascinating." He said he absolutely traces his level of curiosity to Olin Hall, Whitman's seat of arts and humanities classes.
For Moe, life after Whitman is a replay of life at Whitman. "It was all about how many things you could latch onto," he said. "… I didn't become what I was going to be until I got to Whitman," he said.
At Whitman, Moe grabbed onto opportunities: He hosted a radio show. He wrote a humor column for The Pioneer, the student newspaper. He hung out with politics students. In 1990, he was the first winner of the Harper Joy Theatre one-act play competition.
Moe grew up in Federal Way, a town south of Seattle that is "one big outskirt," a suburb with no downtown and lots of big box stores. He said the 1980s there amounted to Camaros and Iron Maiden at high decibels.
Moe discovered Whitman when, then in high school, he participated in the college's summer speech and debate camp. He fell in love with Whitman, and it was the only college he applied to.
He still has radio tapes from shows he hosted during his sophomore year "and sophomoric they were," he said. "We'd go to 7-Eleven before we went on the air, buy snack foods we'd never heard of, and do on-air taste tests. Salsa Rio Doritos come to mind.
"What stayed with me from those times wasn't so much the right way of doing things but the possibility of doing things."
Whitman, with its beautiful and contained campus, offered "an elegant simplicity to student life," he said. In contrast to that, he said a friend of his who went to Boston University, lived in Boston, and just went to classes in various city buildings. "I don't know if she really went to college; she went to classes," he said.
After graduating, Moe left for New York and graduate school for an acting career, then decided he didn't want New York life – it was "too big, noisy, rough and crowded" – and decided on acting in Seattle. But eventually, after working in commercials and other projects, he determined his passion for acting wasn't strong enough to live the starving actor role, and he remembered how much he enjoyed writing. He then wrote "Zombie Temps from Outer Space," a musical comedy about zombies in an office that was snapped up by a couple local theater companies. The director of one of the Zombie plays, an obvious Moe fan, at some point called up the host of an NPR show, "Rewind," to suggest they hire Moe to write sketches for the show. He got the job.
And Moe's radio and writing career started to take off.
Moe's book, "Conservatize Me," his attempt to depart from his liberal Seattle upbringing and explore conservatism for 30 days with an open mind, was published in 2006 and received plaudits, including one on the book-jacket from McSweeney's founder, Dave Eggers: "[Moe's] stuff is sophisticated, literary even, while still managing out-loud laughs."
And he's not done yet. Another book is in the works from a Whittie whose ravenous exploration of the world in words isn't waning. It's just warming up.