Combined Interests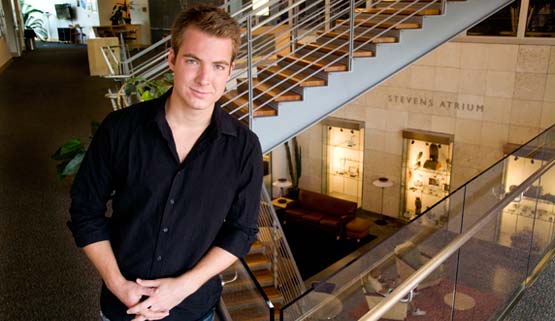 What if, in one fell swoop, you could combine your desire for a broad, liberal arts education with targeted training in such fields as engineering, law, mathematical and natural sciences, environmental management and oceanography?
Interested Whitman students can, through the college's combined plan of study opportunity.
For this program, Whitman teams with leading universities across the country so that its students can get the best of both worlds. Students enrolled in the program spend their first two or three years at Whitman, assimilating into the rigors of academia and developing their critical thinking and writing skills before heading off to a partnering university. This prepares the student with the experience that only a liberal arts college can offer AND provides them with the option of studying deeply into fields that are not offered on campus.
One such student is Daniel Goltz '09. Although he walked across the stage during Whitman's Commencement ceremony in May 2009, he has not yet received his diploma. That will come in 2011, after he finishes his studies at Columbia University. He then will receive two undergraduate diplomas, a B.A. in natural and mathematical sciences from Whitman and a B.S. in chemical engineering from Columbia. Goltz is a member of the engineering and computer science combined plan, which requires three years at Whitman and another two off campus.
"Having these combined programs attracts a very bright, motivated and diverse group of students that may not have considered Whitman, or any other liberal arts college, if there weren't a preparatory path that would take them in the direction of engineering or computer science," says Fred Moore, professor of physics and combined studies adviser for students following the engineering or computer science path.
More than 50 students have graduated from the program with degrees ranging from law and international studies to the most popular, engineering and computer science. Depending on the degree they are earning, students may continue their education at such highly regarded universities as, Columbia University, Duke University, University of Washington and California Institute of Technology.
Though the curriculum requires another year of college, for Goltz the advantages of such a strong program far outweigh the investment of extra time. "During one's first few years of college, it is critical for young scientists to have individualized, even personal instruction. Liberal arts colleges like Whitman are particularly well-suited for this, because of the small class sizes. However, academic interests become much more focused during the final two years, at which point the scientific resources of a large research university become increasingly necessary. Through the 3-2 program, I essentially get the best of both worlds."
Among the reasons Goltz chose Whitman is its outstanding reputation, he says. One of the highlights of his Whitman career was taking molecular biology. "It excited me like no other class I've ever had," says Goltz.
While challenging, the class inspired him to change the direction of his studies and led him to serve an internship at the Cold Spring Harbor Laboratory in New York. There, as part of the Undergraduate Research Program, he worked with renowned scientists, including James Watson, winner of a Nobel Prize as one of the co-discoverers of the structure of DNA.
The next step in his educational journey involves a cross-country trek. His Whitman education has helped lay the foundation from which he can now build upon as he studies chemical engineering at Columbia. Out of the handful of schools to choose from to complete his combined plan degree, Goltz chose Columbia for its excellent professors, great reputation, ability to focus his studies on genetic and tissue engineering as well as its location.
Lacking no initiative — a common trait of Whitties — while at Columbia Goltz also will study organ at The Julliard School.
For further questions about Whitman's combined plans, please contact the Registrar's Office at (509) 527-5983 or for a student's perspective, e-mail Daniel Goltz at deg2136@columbia.edu.