Black Student Union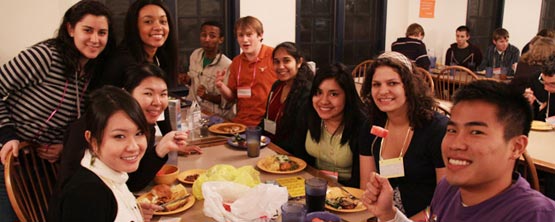 The Black Student Union's Soul Food Night. Photo credit: Ellie Klein, Whitman Pioneer
Sarah Deming '10, president of the Whitman College Black Student Union (BSU), came to Whitman to study economics, but found something else, too – a way to begin substantial learning of her Black heritage through BSU and the "three strong black women" who became her mentors.
Deming grew up in a Tacoma, Wash. suburb and was educated in private schools. She said it wasn't until she came to Whitman that she really started learning about her own heritage.
"It is nice to have strong black women in my life other than my mom," she said. "They were always there for me… I'd like to return the favor."
In part, she's doing that by being active in BSU. Deming and the other nine active union members are working on bringing a speaker to campus this spring. They've also organized social events such as networking-dinners with faculty members of color. The most recent event, the annual Soul Food Night held Feb. 20, was one of the ways the group is celebrated Black History Month.
Deming said she has found that Whitman is unlike the many colleges and universities where racial groups often exist in islands, isolated from other groups. At Whitman, groups are diverse.
"We all hang out together," she said.
Students of all backgrounds who hung out at the recent Soul Food Night changed their identity at the door. Deming's idea.
People were given cards on strings to put around their neck that had the name of a renowned African-American, such as surgeon Daniel Hale Williams.
The intent was to create a dialogue. Tillie Gottlieb '11, who would describe herself as a "white Jew" on other days, was, on this night, wearing the weighty responsibility of Dr. Martin Luther King's name. Gottlieb, who spent much of her childhood in Africa, said she thinks that the "movement he initiated has really come to fruition."
There's much more to do, however. Deming said racism isn't over just because Obama was elected. "It doesn't mean we're done." She said BSU would love adding additional members of all backgrounds. "The more we have, the more we can do."
And that includes honoring cultural accomplishments of all sorts. The recent Soul Food Night included that aspect, too – a celebration of how slaves long ago given "the worst part of the food" were able to create a delicious cuisine. On the menu: cornbread, candied yams, southern greens with bacon, pecan pie and so on.
And a couple hundred people at Whitman College's Prentiss Dining Hall with full plates appeared to be relishing those culinary accomplishments. Then it was off to enjoy BSU's bi-annual dance at Reid Campus Center.