At the end, it rains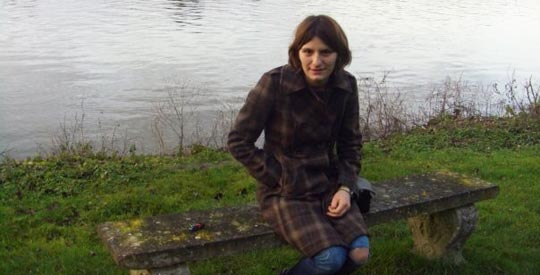 Whitman student filmmaker Dena Popova '10 found her inspiration far from Hollywood, 6,600 miles away in the Bulgarian countryside. There, at a folklore festival, she first witnessed the vaydudulka, a traditional rain prayer dance.
"It's very symbolic," Popova said. "There are 12 old women in a circle that enter a kind of trance. They're trying to ask the Earth for help."
Seeing this dance moved Popova to write a short film script that she titled "At the end, it rained." The script was selected as a finalist in an international competition organized by the European cinema network NISI MASA.
The competition drew more than 400 entries from writers across Europe. Popova's script was one of two chosen from Bulgaria.
Popova, at 20, was the youngest participant in the contest, which was designed for writers ages 18-28.
The contest winners were invited to workshops and marketing sessions in France, where for two weeks they revised and shopped their scripts. "It was a productive and enriching atmosphere," Popova said. "Seeing how different people would understand the film helped me know what to change to make it more accessible."
Popova came to Whitman from her hometown, Sofia, Bulgaria, where she studied at the American College of Sofia. Once on campus she decided to pursue film, a lifelong passion, in an academic setting. "It was the first time I could take theory classes," she said. "It was very useful. The professors at Whitman are very accessible and creative."
"Dena is an exceptionally self-motivated student with an incredible grasp of film," said Associate Professor of Rhetoric and Film Studies Robert Sickels. "For someone just starting out, she has an amazing sense of what she wants her artistic vision to be."
Her script tells the story of Ina and Mathey, two strangers traveling across the Bulgarian countryside by bus. When the bus breaks down in sweltering heat, the two go looking for water. In their search, they chance upon a group of elderly women preparing for the vaydudulka. Ina participates in the rain dance and is transformed by the experience.
"I tried to create a fairytale atmosphere in the script," Popova said of her story. "It's that idea of strangers who share a moment of intimacy, and after that they're strangers again. It's like when you have to travel in an airplane for six hours. You have these friendly and sincere conversations, and after that you never see each other again."
"Dena's script is more metaphorical than is typical of mainstream fare. It's charming," said Sickels, who helped translate the work into English.
Popova's NISI MASA award is the latest in a string of successes for the young writer. She also has earned top honors in prose writing in the Petya Dubarova literary competition, and has participated in Liternaiset, a writer's workshop presented by the British Council.
Despite her gift with words, Popova is drawn even more to the director's chair. As her ambition grows, she'll try to reconcile it with the realities of the industry. "I am a realist," she said. "Making a movie in Europe is hard. All the people I met at the workshop were filmmakers, but many had other jobs in public relations or media. I can see myself doing that."
After Whitman, Popova plans to attend film school in Europe. Her inspiration is French and Spanish cinema (such as Pedro Almodóvar's "Hable con ella") because the films "tell stories about people."
"I come from a country where there are very few feature films each year," she said. "There's basically no film industry, but I really want to make a good Bulgarian film."
— Katie Combs '08