Ambassador Ryan Crocker '71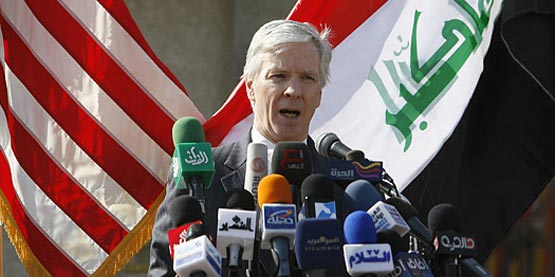 Ryan Crocker '71 had barely started his new post in 2007 as U.S. Ambassador to Iraq when, with heavy military protection, he toured a destroyed southwest suburb of Baghdad. It looked more like Berlin in 1945, he said. He remembers seeing shell-shocked people who were unwilling to get medical care for fear of potential dangers at checkpoints through which they would need to pass. And Crocker remembers returning to his office, putting his head on his desk, and thinking to himself, "How did I get into this and how am I going to get out?"
He did what he often advises others to do — persevere. "Perseverance does not require hope," he said. Two years later, his diplomatic work in Iraq was recognized formally when he received the nation's highest civil honor, The Medal of Freedom from then U.S. President George W. Bush. Bush called Crocker "America's Lawrence of Arabia," and said Crocker's understanding of the region is unmatched.
More accolades came in the Washington Post. David Ignatius, op-ed columnist, who considers Crocker a hero of his: "I've watched over the years as he took on the toughest challenges in the Foreign Service and became a superstar diplomat without ever losing his mordant sense of humor or his determination to speak truth to power."
And U.S. President Barack Obama noted Crocker's accomplishments in the opening moments of his first major speech on Iraq, at Camp Lejeune, N.C.: "He is an example of the very best that this nation has to offer, and we owe him a great debt of gratitude," Obama said.
Crocker retired in 2009 from the United States Foreign Service after a 38-year career that included five ambassadorships: Iraq, Pakistan, Syria, Kuwait and Lebanon. He has accolades of his own to give, crediting Whitman College for developing critical and creative thinkers, and says the college "did so much to shape my life and my career."
"The greatest thing about a liberal arts education is that it teaches you how to think," he said. "The Whitman faculty has always been dedicated to that purpose."
Crocker said studying imaginative literature, for example, was an effective tool in understanding and relating to the world, to foreign cultures. "Literature is the window into how people feel," he said. "No nation or people or culture can be understood simply by the pure facts of their history. It's how they feel, as well as what they've done that makes them what they are."
The study of literature is also a "tremendous mental discipline," said Crocker, who was an English major. "It expands your mind, requires abstract formulating of knowledge and learning not only to think, but to feel — something that is undervalued. Sensing something as well as intellectualizing it "is just as important."
He was fluent in Arabic going into Iraq and knew the country's history and literature. Iraqi poets, he noted, introduced free verse, breaking from classic literary traditions and causing commotion in the Arab world. "It gives you an understanding of the people," he said. Iraqis are "determined, persistent. Iraqis lead," he said.
Crocker said that during his Whitman years he "progressed from being sort of a global tourist interested in the world beyond our borders to becoming someone who had developed the intellectual skills and overall background to leave Whitman and be a practitioner," said Crocker, who passed the rigorous Foreign Service examination right after graduating.
He said Whitman has become even better since his college days, a view he bases on such indicators as student test scores and the number of graduates who go on to graduate school.
Crocker's storied diplomatic career included posts in Pakistan during devastating earthquakes, and Lebanon during a car bombing of the embassy. He actually wanted to retire in 2007, but he and his wife, Christine, delayed their plans at the behest of Bush, who requested that Crocker take the Iraq post.
Now that he is retired, he has made getting more involved with his alma mater one of his top priorities, visiting campus and continuing his service as an overseer.
He is a vocal supporter of the college's new Global Studies Initiative, which, with the help of a $350,000 Mellon Foundation grant, is providing faculty development opportunities, workshops and seminars that will lead to more interdisciplinary courses on global themes and develop students' global awareness of the interconnectedness of the world's cultures.
"It's a tremendous initiative… hugely important," he said.
When he was a college student, the world in the midst of the Cold War had a level of stability because of the balance of the two powers that it doesn't have today, he said. "In the post Cold War era, in a nonpolar world, regional peculiarities, tensions and phenomena create conflicts and challenges in ways that are not predictable if you're not schooled in a global environment," he said.
Crocker created his own study abroad experience before Whitman had such a program so he could spend his junior year studying literature in Ireland. He is impressed that now more than half of Whitties spend time studying overseas. "You have to understand the world on its own terms," he said. "You've got to get out into the world."
In retirement, Crocker and his wife settled in Spokane, where he spent part of his childhood. Among the things he is enjoying is "freedom from needing a driver, a 40-person entourage and helicopter gunships hovering overhead" every time he steps out the door. He plans to spend significant time on campus and now can jump into his car anytime to do that. And that's a simple freedom he savors in "this great country," he said.
— Virginia Grantier