A 12,000-mile Journey of Discovery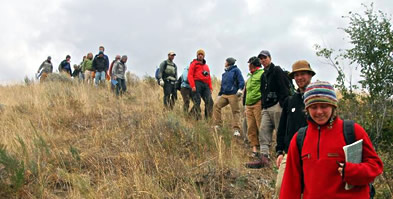 No college can claim to have the market cornered on innovative ideas. But converting those ideas into extraordinary learning opportunities is what sets Whitman College apart. Consider the kind of unique opportunities Whitman students find through the Semester in the West program, for example.
A semester-long, 16-credit hour course for students with at least sophomore-level status, every other year this program takes a group of 20 students on an extraordinary 12,000-mile journey of discovery across the American West to explore some of the most urgent social, political, ecological, environmental, and cultural issues of the region. "The goal is to integrate traditional academic learning with a series of rigorous experiences in the West," explains Phil Brick, director of the program and professor of politics, who leads the group.
"As they travel from the deserts of New Mexico and Arizona to the grasslands of Hell's Canyon, students read and write about and discuss the histories and cultures of the communities who live here. They learn how scientific research is done in the field, and how such research is used in political arguments as well."
What it all adds up to is a life-changing experience for students. "It's difficult to describe the emotions and memories of my experience," says Matt Cameron, of Anchorage, Alaska, a recent participant in the program. "I remember feeling awe as I stood on mesas overlooking the Valley of the Gods and the San Juan river, feeling overwhelmed in the Chihuanhuan Desert, craving water as we hiked in Hell's Canyon.
"The program not only allowed me to discover my passion for biology, it also taught me to think independently. To experience places and people, nature and wildlife like I never had before. To understand issues like water rights, border security, and logging, through the multiple perspectives and raw opinions of the real people who live in the region. To immerse myself in learning in ways I could never ever have imagined."
"It's a program totally unique to Whitman, probably because only Whitman has professors like Phil Brick," adds Matt. "He was right there beside us, through every mile of travel, through cold nights and days without showers, through every moment of homesickness, and every moment of awe, insight, inspiration, learning, and fun!"
Professor Brick admits the experience is as much fun for him as it is for the students. "One morning in New Mexico, we were camping at 7,000 feet and woke up to snow and sleet," he recalls. "We woke up wet but the camp was alive with laughter and joy. Waking up every morning to the sound of students laughing — it's what makes these trips so memorable."